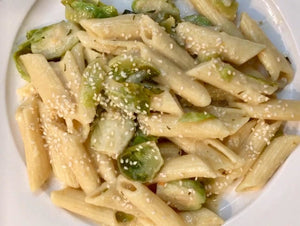 Creamy Vegan Asparagus Pasta Sauce
Ingredients

1 cup dry great northern beans, soaked overnight and cooked until tender. If using canned, substitute with 2 15 oz cans, drained
6-8 cloves garlic, crushed and sliced
1 tsp red pepper flakes
1 tsp dry oregano
1/4 cup raw cashews, soaked for at least 30 minutes
Salt to taste
1 tsp extra virgin olive oil
1 lemon, juiced and zested
Instructions

1. Heat the oil in a large saucepan. Add the garlic and stir-fry until it begins to turn blonde.
2. Add the red pepper flakes and oregano and stir-fry for a minute.
3. Add the beans and salt to taste. Let the mixture come to a boil. Add a cup of water if too dry. Lower heat to a simmer and let the beans cook with the garlic and oregano for about 10 minutes.
4. Remove the beans to a blender, add the cashews, and blend into a very smooth, creamy sauce. You can add some water if needed, but add a little at a time to get just the consistency you want.
5. Add the sauce back to the saucepan and bring to a boil. Keep stirring the sauce to ensure it doesn't stick to the bottom -- don't use more than medium heat. When the sauce begins to boil, turn off the heat and add the lemon juice and zest and stir in. Check salt and serve hot with pasta.
Recipe Notes

*Add some baby spinach to the sauce just before it's ready, and bring to a boil. Let the spinach cook about a minute until wilted. Serve.
*Stir in a couple of tablespoons of nutritional yeast after turning of the heat, for a cheesier flavor.
*I like to serve this on top of pasta with some minced parsley.
xxDani
Lifestyle Motivator