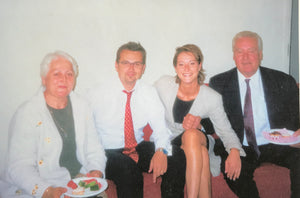 When My Father Committed Suicide
Disbelief is what came to mind today as I remember the fatal day two police officers knocked on my door at 11pm Monday 28th March 2016 and asked;
"Are you the daughter of Zlatko Skaler?"
I literally felt an outside body experience and looked past these two police officers when they told me my father had tragically taken his own life. How? Why? He's such a joker of a character and so full of life, why would he think there was no other way out? But then I also realised he had a big life full of trials and tribulations himself.
He was born in Zagreb Croatia 25th March 1947. Parents from a Croatian, Slovenian, Hungarian and Austrian background with 2 brothers and a sister. Life was pretty good with the Skaler family growing up and Dad went off to the army where he meets my Serbian mother on a train, gets married the year after, has my brother Daniel in Zagreb 1968, moves to Germany with Mum to seek further opportunities until he makes a massive decision to travel across the ocean to Australia in the 70's (mum told me he vomited for 29 days straight and lost over 10kgs) and then I was born March 14th 1974. Forever grateful for my parents making this decision to migrate to Australia.
Fast forward to the 80-90's when he lost all his siblings and parents, got divorced from my mother when he was 41 (I was 16 years old) mainly due to his social drinking habits and not realising he was an actual alcoholic. It's such an Eastern European cultural tradition drinking everyday or having a swig of rakia first thing in the morning (rakia is a brandy made with plum and grape sometimes mixed with other ingredients, such as herbs, honey, sour cherries and walnuts, after distillation).
Dad and I travel to Croatia together to reconnect with his family, he meets another Hungarian lady, lives with her longer than the 20 years he was married to my Mum, nearly dies from over loading his liver with all the alcohol he consumed over 30+ years, gets a liver transplant in 00's (he loved meeting and talking to Derryn Hinch as they had the same procedure) then he gets diagnosed with prostate cancer (nearly dies again!) copious amounts of skin cancers, is prescribed heavy meds for the rest of his life, his Hungarian partner now no longer wants him in her life due to his illnesses that have made his appearance less attractive and nasty odour as a drug side effect so she jumps online, finds a lover on the Internet, sends him $20,000 of their life savings (mind you both Dad and his partner are pensioners 68-69 year olds) she flies to London where the Australian Embassy officials re-board her straight back to Australia, as the man she was sending money to was a fraud. They have an argument, things got out of hand then Dad gets all depressed about this situation and ridiculous life circumstances, drives to his local shopping centre on Monday morning (where he buys his local paper everyday) parks his car, walks to the train tracks behind the shopping centre and takes his own life.
WOWZA! What a world wind. I have never shared this story because of fear, embarrassment or shame for my father but also hid it from our young kids as I thought they were too young to know how their Deda died. Actually let me stop here.... I covered it up or rather lied to people. I said he fell ill and died in hospital. I even asked my brother not to tell people how my Dad died. But he said he would tell the truth to his older kids so I respect him for that. It's just taken me 3 years to share the truth!
Suicide shouldn't be a hidden taboo or stigma. In fact we should be able share stories so we can all heal from our experiences. You can share yours here.
Thank you for reading a snapshot of my life with Balkan Eastern European parents who have too much pride or embarrassed to seek any help. I'm breaking that stigma today.
If you or any of your family or friends need any help EVER we have the best support here in Australia.
Memories will never die that's for sure. I will always remember Dad and I going shopping to Tuckerbag (back then we had brown paper bags, why on earth did we ever settle for Swedish engineer Sten Gustaf Thulin plastic bag invention?) visiting delicatessens and filling up the pantry with so much food, going overseas numerous times to Serbia and Croatia but the Sarajevo 1984 Winter Olympics was the biggest highlight of my 10 years on earth back then, providing a beautiful home and whatever we wanted as kids, teaching me to play the piano accordion, picking me up after school at the end of our 2kms dirt road in his yellow Toyota ute and our puppy called Mickey and always reminding me at any roadblocks I reached in my life to sing (in his strong Croatian accent) "don't worry be happy".
Everyone needs help, you never know what people are experiencing and when. There is an average of 8.3 deaths by suicide in Australia each day which seems surreal and doesn't need to happen. 
I try and help people everyday with coping strategies and how to handle life challenges as we all experience it over our life time. Life is too short not to enjoy it.
Here are some things I want to do;
Tell my family friends how much I love them everyday
Live for the moment and enjoy the little things life has to offer
Never sweat the small stuff or worry about money
Impact lives in this world so we can all feel we can do anything we want to regardless of gender, age or religion
Travel around the world with our family
Get my toes wet and sandy everyday
Spread my fathers ashes in Croatia
Visit my 95 year old grandmother in Serbia
Continue to spread love and kindness
I wanted to interview George Michael but satisfied I saw him with my own eyes during his WHAM concert and George Michael tour (but knowing me I'll take a picture in-front of his London home)
Take our children to Ubud, Bali to experience Green School
Write a book
Go skydiving and Hot Air Ballooning with all our children together
Embrace growing old and share my pro age message
Present and share my story on stage (in particular deliver a talk featured on TED.com)
Leave a legacy behind to continue great work for humanity and our planet
The list is endless...
I can't wait to read all your comments and if I can share one thing with you today, please tell your friend, lover, husband, wife, partner, sister, brother, uncle, aunty, cousin, in-laws and child that you love them unconditionally and always there for them no matter what. Because there will come the day when you won't be able to anymore.

The first time (and last time) our family was re-united after my parents divorced in 1988. My mum Mira, my brother Daniel, me and my dad Zlatko in 2002.
Sending much love to you and thanks for all your beautiful wishes on a day that was broken 3 years ago....
 XxDani