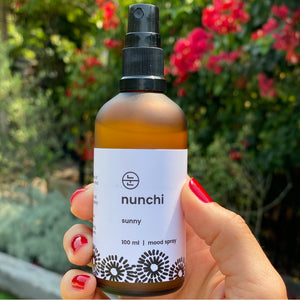 The Nunchi Essential Oil Story
I love the smell of essential oils, put them into a gorgeous bottle and spritz that goodness all over me!!!
Talk about spritz! Today marks our 20th day sober together. I have personally been sober for 33 days and feeling fabulous!!! In fact I'm so happy, my friend Di is helping us out with our challenge this month!!! Offering 20% discount off her new nunchi range (use dani20) so we feel fresh and smell delicious. What does nunchi even mean?
Nunchi, sometimes noonchi, is a Korean concept signifying the subtle art and ability to listen and gauge others' moods. In Western culture, nunchi could be described as the concept of emotional intelligence. It is of central importance to the dynamics of interpersonal relationships.
Who's Di? I will let her do the honour of introducing herself and her beautiful family. 
"I'm Di, mother of three girls, grandmother of two girls, wife and creator of nunchi. The creation of Nunchi began two years ago but is the result of a whole life time of experiences.

I spent most of my career working within my husband's advertising and graphic design agency. It was here I learnt the value and importance of branding, good design
and the process involved in the development of a product.
However, it was a major mental health breakdown that steered me toward the world of yoga, meditation and mindfulness to develop life skills to stay healthy. I spent years studying and teaching in these areas and became intrigued with natural ways to aid my personal mental health.

Everyday mindfulness became my 'go to' practice. I didn't need to go anywhere to do it, I could just make it a part of how I lived each day. I also had a passion for the emotional benefits of essential oils and I began experimenting with different combinations.
It was when I found a way to make essential oil sprays that I realised each time I sprayed myself with these blends, I was taking a 'mindful moment' and the aroma was that extra reminder for me to breathe deeply and slowly.
This was the planting of the seed for the nunchi range of mood sprays. Once the idea was born, the rest just flowed naturally. It always felt as though nunchi had a life force of its own and I was just there to guide it.

Each nunchi blend was created after much research and the help of a team of friends and essential oil lovers that I now call my 'sniff team'. We spent many hours blending and experimenting with essential oils until we were all happy with the aromatic result. I believe this is why each nunchi fragrance is divine, they have been created by a community over time.
With my formulas now in hand, I make each spray myself, in my home.
My added gift of love is to infuse the purified water with a crystal to further the healing benefits of each spray. I use premium grade essential oils and will source them from Australia where possible. I regularly travel to Byron Bay and have found a supplier who is creating Australian essential oils grown in the surrounding hinterland. Byron Bay is known for its healing energy and I believe essential oils from this area are very powerful.

The Body Oils have been the latest addition to the nunchi range as I have developed a love of using body oils myself and wanted to create some with the combined benefits of essential oils. Taking the time to nourish and nurture yourself is another important part of staying balanced and healthy.
These oils are 100% organic and have no additives, so important when putting something onto our largest organ, our skin.

Nunchi is now available on line and in various selected stockists around Australia. It is also being sold in a divine Yoga school in Melbourne called Warrior One, which I am really excited about. I believe that when something is created from the heart, this intention will be passed onto everyone who uses that product. This is my intention with nunchi, and I sincerely hope that nunchi helps people bring calming, mindful moments into their day."
Thank you so much Di and it's amazing we connected together. Our love and life philosophy is so on point and it's the reason why we are able to do the work we do for people. 
*This is not a paid or sponsored post*

Happy Friday and please use my Dani20 discount code at checkout when you order your Nunchi self care pack. You'll absolutely love it!
BTW how ironic when writing this post at my local cafe this sign appeared!!! Hahahaha love how all the stars align....
xxDani