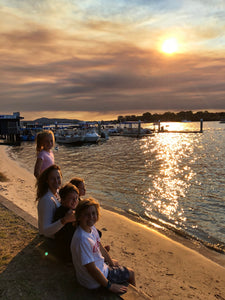 Noosa Family School Holidays Getaway
We adore this destination. Noosa why do you keep calling us back for more?
Ohhhh....that's right. It's all the amazing vibes, sunsets, adventures we have and especially the places we stay while we are here.

Magical sunset moments like these let us know, no matter how bad your day was the world truly puts on a beautiful show!
We always love exploring in the Noosa National Park (we love getting lost!) and the adorable Sunshine Coast line is always mesmesiring.
Climbing to the top takes hard work and effort but the views are always worth it. This is what I tell our children in every day life situations "Never give up." Rest and recover but keep on going. Hard work always pays off.
Our airbnb experience was a dream. Such a beautiful home for our family of 7. We loved all the details from bathroom accessories to the kitchen blackboard (which was our daily planner) and of course all the array of books!
Adrian loved the mini bar and styling in our airbnb home. It reminded him of a Scandi home with a Cali vibe. It has 4 bedrooms with 2 bathrooms and so spacious for us 7 Nomadz .
The beautiful artwork and attention to detail in all the rooms were on point!
Zali's bedroom was super sweet. She loved playing peek a boo in her little bed. She could sleep in it for days....
Noah and Oscar had a blast bunking in the same room together. Running outside and playing especially climbing the spider web dome.
While Mietta and Zali had their own pretty rooms each.
Not to mention loads of family one on one time playing board games, reading and just spending quality family time together. We decided to be off the grid most days and the kids had no technology whatsoever.
Our kids also loved preparing for our picnics with Dad in the kitchen.
So if you ever feel like a visit to this amazing Noosa home don't forget you can bring your fur baby too. You won't be disappointed, this home has it all. Grab my $50 discount when you book your next airbnb getaway and big love to airbnb and our super host Amelia!
We will be back!