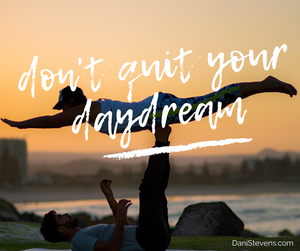 One of my all time favourite TV shows after school was "I Dream Of Jeanie". I think that's where my fascination of the sea began where an astronaut Tony Nelson finds a beautiful, 2000 year old blond genie in a bottle after a flight on a deserted beach next to the ocean. Fast forward today I am the grey hair genie that daydreamed her life to live by the sea with the love of her life Adrian Stevens. 
It only took me over 40 years to achieve but I strongly feel my daydreaming skills have been an essential part of my creativity and what I have achieved today. What if we actually carved out time for it? What if your most brilliant idea yet is only a daydream away?
Daydreaming to me is a powerful tool, it allows me to have a free flow of thoughts like the ones when we are in the shower singing away or just before we go to sleep? But now I find it happening throughout the day! All my creative energy flows and all these ideas come to fruition. I either document them on my notepad or pin them on my inspirational boards. This is where the fun begins, when I catch up with all my thoughts and start planning and scheduling them. Our home is full of Kikki journals and boards!!!
This daydream gig didn't happen over night, it took all those alone times to get my mind thinking about the unknown and wishful thinking. I will never forget my friend telling me "If you don't take a chance you don't stand a chance". That's been my philosophy in life for a long time and now my recent one;
Dream Big
Believe
Make It Happen 
If you are struggling to find time to daydream here are some things I do to make sure I get enough daydreaming time during the day!
- Avoid your device at all times (hahahhaha) I know, I know it's pretty difficult in this day and age but allocate your tech time like you would with anything else and make use of creating your very own dreams than scrolling and wishing for others.
- Go for a long walk or bike ride, just YOU and maybe some music to get you in the mood. Or simply use the sound of nature to inspire you and being present and aware of your surroundings.
- Take a long bath and create a beautiful space for you to fall into that romantic love scene with all the bubbles and soft mood candle lit vibe.
- Give yourself permission. I will never forget my mother always telling me off for being such a daydreamer and that there is more to life than dreaming. So make sure you fall in love everyday and role play your dream as it works a treat for me!
- Daydream next time you are doing your washing, exercise, gazing out a window or listening to music. I even find being creative and designing inspirational boards brings me deeper into the primal human mind. You see it, you believe it. 
I really do hope you make time and give your mind the time it deserves to wander, you'll be amazed at how creative you can be. Daydreaming about achieving your goals will always motivate you to pursue them.
That's how I have been able to make my daydreams into my reality. Spark your daydreams today and let your mind run free. Join me daily on our Facebook Dani & Co. group so we can continue to daydream out loud together. 
xxDani