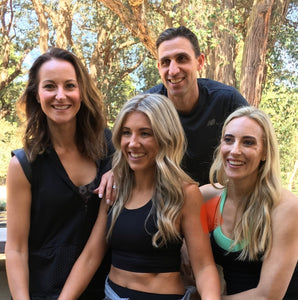 Healthy Her Podcast with Amelia Phillips
It was so great speaking with Amelia Phillips who has just launched her Healthy Her podcast. We talk all about life, practical tips, how to stop self sabotaging yourself and living a rich and fulfilled family life.
My healthy lifestyle wasn't an overnight success. It still isn't today, I also fall from time to time. May it be financial pressures, emotional stress, grieving etc... I takes hard work to maintain a fit and healthy lifestyle and most importantly consistency.
It took a lot of Tim Tams and potato chips to get me to finally kick my bad habits, stop feeling sorry for myself and make healthy habits and changes
I met Amelia 2 years ago when we created my Time Saver Program with Voome. She was co-owner of the 12WBT and is a Fitness & Nutrition Expert, TV presenter, Trainer & Blogger passionate about helping women lead healthy and fulfilled lives.
She is also a SUPER Mum of four under 6yo, and knows all too well how a Mum's health impacts the whole family.
Go check her out, Amelia AMAZING!!! 
Happy Tuesday.
xxDani