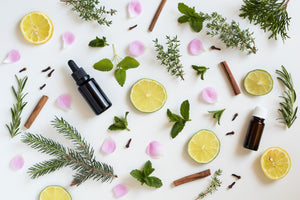 Family Wellness & Meditation with Oils
I'm all about nature and plants. Especially when they're good for our health and smell amazing. So many people I know are loving the healthy aspects of essential oils (myself included) so I wanted to share how we can incorporate them in our daily lives with our family or just one-on-one meditation time.
I invited Laura Maher from Essential Wellness with Laura to share her favourite essential oils and how families can incorporate it in their day to day lives.
WHAT ARE ESSENTIAL OILS?
Essential oils are naturally occurring, volatile aromatic compounds are found in the seeds, bark, stems, roots, flowers, and other parts of plants.
Essential oils give plants their distinctive smells, protect plants and play a role in plant pollination. In addition to their intrinsic benefits to plants and their beautiful fragrance, essential oils have long been used for food preparation, beauty treatment, and health-care practices.
Essential oils can be used for a wide range of emotional and physical wellness applications.
I use them for for cleaning, balancing mood, assisting in sleep, injuries, upset tummies, help with digestion, in cooking, bath products and more! They can be used as single essential oils or in complex essential oil blends depending on user experience and desired benefit.
HOW TO USE ESSENTIAL OILS
ARMATICALLY - DIFFUSER (not a humidifier) OR PERSONAL INHALATION in your hands
OPICALLY on your skin - Always diluted, they are very powerful when used to the closest source of pain.
INTERNAL USE - Always read the labels of your oils to see if they can be used internally (unfortunately not all oils are made equal, I only recommend using doTERRA essential oils).
A great toolkit of natural goodness for all mummas to have on hand!!
ESSENTIAL OILS FOR MEDITATION
Using essential oils for meditation and rituals is a fantastic way to induce various states of relaxation and can be utilised in many ways. Proper use of essential oils during meditation can really help to enhance the experience by grounding you and promoting a sense of calm.
Oils to use oils
Essential oils like Sandalwood, Cedarwood, Patchouli and balance are considered grounding.
Other oils including Lavender act as a natural sedative and can enhance the relaxed state of meditation.
Oils like Frankincense and Bergamot are said to enhance enlightenment and a spiritual connection with the divine.
Whether your meditation is for spiritual, emotional, mental or physical benefits, essential oils can really help to support and strengthen your practice.
Ways to use oils
Oils can be used in a few ways, by placing a somedrops on your wrist pulse points or your third eye or you can diffuse them through the air or you can make a spray, you can also apply essential oils topically on the bottoms of your feet or over your heart chakra before you begin your meditations.
My favourite method of using essential oils in a meditation practice is with a diffuser, by adding a few drops of essential oils to your diffuser before you begin will really help support your meditation practice.
If a diffuser is not available, simply place a few drops into the palms of your hands and breathe in several long, deep breaths before beginning your meditation. You can repeat this throughout your meditation as you feel the need.
There is a strong link between smell and memory, if you continue to use the same oils, over time the memory of the scent will help bring you into the relaxed meditative state that you desire more quickly.Diffuser blend ideas
Grounding Meditation Blend
3 drops of Sandalwood or Patchouli
3 drops of Frankincense
3 drops of Bergamot
Relaxing Meditation Blend
5 drops of Lavender
3 drops of Cedarwood
2 drop of Bergamot
Calming Meditation Blend
3 drops of Ylang Ylang
3 drops of Frankincense
2 drops of Patchouli
* * *

Thanks so much Laura for sharing your tips and ways we can incorporate essential oils in our everyday life. I'm loving the yoga oils which you can check out on my Instagram stories.
You can follow Laura on Instagram, Facebook and read how she built her online business, through her passion for oils via website. Who knows there even might be a business opportunity for you both.
"Did you ever consider the possibility
that maybe the oils are addicted to me!"