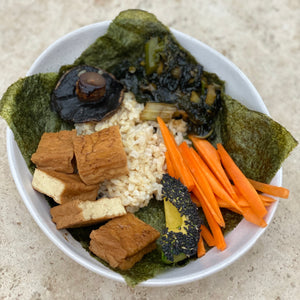 Sushi Bowls with Japanese Teriyaki Tofu
This is usually a quick dinner in our home, as I place the rice to steam I prepare the other fresh vegetables and/ or tofu gently pan fry along with some greens. Decorate with whatever fresh produce you have in your fridge/ pantry and this will be a hit on your family dinner table too!
Sushi Bowls with Japanese Teriyaki Tofu
Serves 6
Ingredients
1 bunch of silver beet
6 mushrooms
1 avocado
1tsp black sesame seeds
2 cups of brown rice
2 carrots
1-2 crushed garlic
1 bunch of silverbeet and/ or bok choy
1tbs Olive oil
1/2 cup water
2tbs Hoisin sauce
6 sheets of Ariake (roasted seaweed sheets)
x2 packets Japanese tofu 200g
Method
Steam your rice in a steam cooker or oven top (follow packet instructions) while you wash and prepare your vegetables. Heat oil and saute garlic, greens and drizzle hoisin sauce and 1/2 cup of water and simmer until tender. 
Finely slice carrots, cut 1/6 avocado slices and dust with sesame seeds. Once greens are cooked, use same pan to grill mushrooms and then tofu.
Now it's time to assemble your sushi bowls. Place seaweed into bowls and with cooked brown rice, greens, adding carrots, and warmed tofu, sesame crumbed avocado and anything else your heart desires. You can experiment with this dish depending on what fresh produce you have access to. 
Think crispy and fresh red capsicums, crunchy broccoli and cucumber, the list is endless.
Happy Sunday and come join us for this months December challenge. There will be weekly giveaways to keep you motivated over this festive season.
"I truly think
sushi is a gift
from the gods."
Are you a fan of sushi?
xxDani