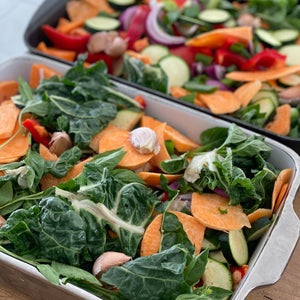 Super Tasty Mediterranean Pasta
This has got to be hands down once of the quickest and tastiest dishes EVER! What I mean by quick, it all depends how quick you can chop or use a food processor. Me? I have 4 kids so this gets done under 10 minutes! haha
Super Tasty Mediterranean Pasta
Ingredients
1 clove of garlic
1 capsicum
1 sweet potato
2 spring onions
5 zuchinni's
x2 spiral packets of cooked San Remo pasta
2tbs olive oil
1 sprig of basil and rosemary
Salt and pepper
Method
Wash, peel, cut, slice, chop all your favourite vegetables, place in a oven tray, drizzle with olive oil with salt and pepper. 
Place in pre-heated 170C degree oven and bake until soft and juicy. 
Once pasta is cooked, toss everything together, add nutritional yeast, chilli flakes, rosemary and fresh parsley. 
Please use whatever seasonal vegetables your farmers market or supermarket have and experiment with all the delis
Have a sensational start to this brand new week. Week 2 of our #DaniDetoxDecember challenge. Come join my #DaniSoberTeam as we drink and celebrate our health over the festive season!
See you daily on my Instagram stories and Dani & Co. Facebook group page.
xxDani