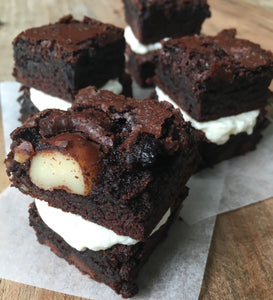 Gooey Chewy Macadamia Chocolate Fudge Brownies
These are not only healthy but so soft, gooey and chewy they will melt in your mouth!!
Macadamia Chocolate Fudge Brownies
serves 6
Ingredients:
1-1/2 cups dark chocolate chips, or use Loving Earth cacao powder (I mix half and half as I ran out of chips!)
1/2 cup raw crushed Macadamia Australia nuts and blueberries
1 teaspoon vanilla extract
1 cup natural Greek yogurt
1/4 cup + 2 tablespoons coconut oil
1/2 cup coconut sugar
3/4 cup almond meal (or blend your own almonds)
1/2 teaspoon salt
1/2 teaspoon baking soda
Icing suggestions:
1/2 cup dark chocolate chips
2 tablespoons milk, or use your preferred milk
2 tablespoons vanilla Greek yogurt
3/4- 1 and 1/4 cup natural sugar sweetener (coconut sugar, maple, rice malt syrup etc...)
OR coconut cream as we did :-)
Method: 
Preheat oven to 180C degrees - 356F.
Line a tin with baking paper, spray with nonstick spray.
Microwave coconut oil and pour over choc chips or cacao until all melted.
Add blueberries
Add the Greek yogurt, stir in the vanilla, salt, baking soda, crushed macadamia nuts and coconut sugar.
Blend almonds until they resemble almond meal.
You will need 3/4 cup or add more if the mixture is too wet.
Mix and combine into greased proof tin and bake approx. 30 minutes or until cooked.
Do the skewer test and ensure you don't over cook it. Gooey chewy is a great consistency. I love it!
NB: if you don't have a baking flat tin, do what I did and lay the baking paper within a large baking tin and fold up the sides and create your own brownie mould!
Let me know when you make these babies and tag me #danistevens.
Happy Monday! Good luck to everyone doing our #danidetoxdecember challenge, week 2 is going to be amazing!!! 
Join the sober club #danisoberteam
Please share your journey so we can inspire others to live a healthy festive season and beyond!
xxDani