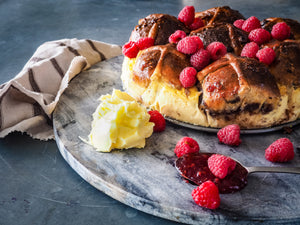 Vegan Raspberry Hot Cross Buns
Amazing vegan hot cross buns have never looked this good. My talented friend Guy Turland from Bondi Harvest has outdone himself this Easter! Remember his epic Easter Eggs recipe a couple of years ago? 
Raspberry Hot Cross Buns  
​
Ingredients

1 Tablespoon Active Dry Yeast
½ Cups 110g Caster (Superfine) Sugar
1½ Cups 375ml lukewarm milk Almond or Hemp
4¼ Cups 635g plain (all-purpose) flour, sifted
2 Teaspoons Allspice
2 Teaspoons Ground cinnamon
1 Lemon Rind
1 Orange Rind
1 Vanilla Bean
⅓ Cup Olive Oil
2 Cups 240g dired fruit
½ Cups 75g plain (All-purpose) flour, extra
⅓ Cup 80ml water
½ Cup Marmalade or Berry Jam
Instructions
Place the yeast, 2 teaspoons sugar and the milk in a large bowl and set aside for 5 minutes. The mixture will start to foam. Add the flour, allspice, cinnamon, vanilla bean, lemon rind, orange rind, olive oil, dried fruit and remaining sugar to the yeast mixture and mix until a sticky dough forms.

Knead the dough on a lightly floured surface for 8 minutes or until elastic. Place in a lightly oiled bowl, cover with a clean, damp cloth and set aside in a warm place for 1 hour or until doubled in size.
Divide the dough into 12 pieces and roll into balls. Arrange the dough balls in a lightly greased 22cm square cake tin lined with non-stick baking paper. Cover with a damp cloth and set aside in a warm place for 30 minutes or until risen. Preheat oven to 200°C (400°F).
Place the extra flour and the water in a bowl and stir to combine. Place in a piping bag or a plastic bag with one corner snipped off, and pipe crosses on the buns. Bake for 30–35 minutes or until golden and springy to touch.
Pull the hot crossed buns out of the oven and glaze with jam or marmalade while hot, serve with butter and eat hot.
Thanks again Guy for making another Easter season so much more amazing and for all your epic recipes.  We Nomadz6 love what you do. 
Happy Tuesday! 
xxDani
365 Lifestyle Motivator