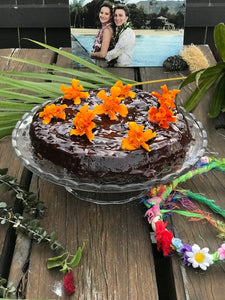 What a wonderful 12 years we have had as husband and wife. I count my blessings everyday for the beautiful family I have and the choices I have made in my life.  
I wouldn't be here today sharing our family journey if it didn't take hard work, persistence, belief and most of all love. 
Hawaiian Chocolate Cake  
Cake
3 chia eggs*
1 1/2 c. white sugar
1 1/2 c. all purpose flour
3/4 tsp.  baking soda
3/4 tsp.  salt
3/8 c.unsweetened cocoa
3/8 c. coconut or macadamia oil
1 c. plant based milk
 *1 Tbsp chia seeds + 2.5 Tbsp water = 1 egg substitute 
Chocolate Ganache:
1 1/2 c. water
1 c. coconut sugar or rice malt syrup 
1/4 tsp. salt
1/4 c. coconut butter
1/2 c. unsweetened cocoa
3/8 c. corn flour
1/2 c. water
1 tsp. vanilla extract
I made this cake vegan by following the recipe on Cooking Hawaiian Style one of my fave foodie websites. 
Typically I make two layers of this cake with the delicious icing in between each layer but I have been having too many sweets lately that I was watching my sweet tooth habit! 
The girls were super cute, helping me decorate the cake as it was our 12 year wedding anniversary (where did that time go?) so we made sure we had a Hawaiian theme as we remembered our ceremony exchange on the beach.... 
One of the best days of my life. Sand between my toes, salty breeze air and standing in front of the love of my life and our new future entwined as one.
This picture says a thousand words. Laughter is exactly what has been the highlight these last 12 years. 
We can't wait to go back to Hawaii and I do hope you enjoy this chocolate cake less the dairy and eggs. Tag me #ds365 if you end up making it.
Subscribe here for more behind the scenes and follow me on Instagram and Facebook. 
xxDani
365 Lifestyle Motivator