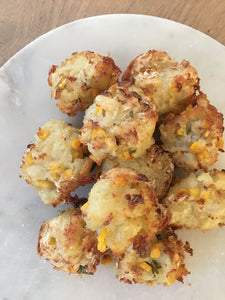 Potato Corn Haystack Hash Browns
Hahhahaha that's what the kids said;  
 "Mum these look like mini haystacks!"
 Potato Corn Haystack Hash Browns
 Ingredients
1kg potatoes 
1 can of corn  
1tbs corn flour  
Salt and pepper
Handful of fresh parsley 
Sprinkle of cumin & curry 
Method
1. Grate potatoes and squeeze out all the water.
2. Add corn, parsley, flour and favourite seasoning and mix thoroughly.
3. Line a muffin tin with baking paper or oil and spoon out mixture. 
4. Bake until golden brown 180-200C degrees.  
ENJOY!!!! Watching it here. 
Watch our 365 days over on  YouTube, Snapchat or Instagram stories. 
HAPPY FRIDAY and always.....
Have a sensational weekend.  
XxDani  
365 Lifestyle Motivator