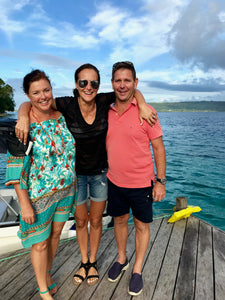 Discovering Vanuatu in beautiful Aore Island Resort
Beautiful Aore (pronounced Ow-Ree) Island is a short boat trip from the mainland and delivers you to your Pacific island dream doorstep. It is the ideal base for exploring and experiencing the delights of Espiritu Santo which is only 2 hours away from Australia.
When we arrived at Aore Island Resort we were greeted with warm smiles from our wonderful hosts Brad and Lisa.
This beautiful private, secluded, and unpretentious tropical resort, is set on absolute beach frontage, has welcoming  boutique style bungalows with all the comforts of home yet none of the everyday distractions.
We did everything from water sports to snorkeling (even went over to Luganville to visit Million Dollar Bay and on our way met Annie who cured herself from cancer after her miracle experience with Jesus Christ as he appeared to in front of her and blessed the waters) and my most favourite experience on the island was the plantation tour. Our amazing tour guide Rocky shares natures cacao lollies, vine water and beautiful Banyan trees just a few steps behind this beautiful resort.
Check this out....
Vanuatu History Facts
Vanuatu History Facts
Many of the islands of Vanuatu have been inhabited for thousands of years, the oldest archaeological evidence found dating to 2000 BC. In 1605, the Portuguese explorer Pedro Fernández de Quirós became the first European to reach the islands, believing it to be part of Terra Australis. Europeans began settling the islands in the late 18th century, after British explorer James Cook visited the islands on his second voyage, and gave them the name New Hebrides.
In 1887, the islands began to be administered by a French-British naval commission. In 1906, the French and British agreed to an Anglo-French Condominium on the New Hebrides.
During World War II, the islands of Efate and Espiritu Santo were used as allied military bases. In the 1960s, the ni-Vanuatu people started to press for self-governance and later independence; full sovereignty was finally granted by both European nations on July 30, 1980. It joined the UN in 1981, and the Non-Aligned Movement in 1983.
Million Dollar Point
This footage is amazing! I didn't have my waterproof camera so BIG thanks to Michael Harper for this video and capturing exactly what I saw. It's truly remarkable to see this underwater world (I felt a little spooky down there) as it was all the millions of dollars worth of material disposed there, sometime between August 1945 and December 1947 during WWII.  
Travel writer Thurston Clarke describes the scene:
"The Seabees built a ramp running into the sea and every day Americans drove trucks, jeeps, ambulances, bulldozers, and tractors into the channel, locking the wheels and jumping free at the last second. Engine blocks cracked and hissed. Some Seabees wept. Ni-Vanuatu witnessing the destruction of wealth their island would never see again, at least in their lifetimes, thought the Americans had gone mad."
This underwater military dump is a popular diving (and snorkeling) destination. The dumped goods were not abandoned by the native Vanuatu people, nor by the Franco-British Condominium who ruled Vanuatu (then known as the New Hebrides) from 1906 until 1980, but by personnel of a WWII American military base named Buttons. At the end of the war, sometime between August 1945 and December 1947, the US military interred supplies, equipment, and vehicles under water. 
Million Dollar Point is such a beautiful beach and the kids AKA pikanini's are super friendly, just check out these adorable smiles and high fives. Pure paradise. 
Meeting Annie 
One of the locals mentioned I should stop by this miracle water hole as there is a lady who healed herself from breast cancer. 
Annie told me her story directky. She was in despair, no doctor could heal her and she bowed down in this water hole and asked God to heal her and then she saw a light flash and hit the water.  Jesus appeared and blessed her telling her "You are disease free". 
So many Vanuatu believe this and come regularly to bathe in this water and many now are coming from overseas to bottle this healing water to cure any disease or disability they may have.  
Highlights at Aore Private Beach Resort
Fresh tropical food every morning for breakfast, lunch and dinner with gorgeous flowers. 
Morning swims were amazing, the water was so blue, everywhere around me was blue and I was so mesmerised as I floated and took this time to really unwind. 
Our walks back to our beachfront villa, which allowed me to keep up with my daily 10,000 steps. Travel and fitness are a match made in heaven. 
Relaxing on our balcony and soaking up all this beauty around would have been one of the best highlights. Re-kindling our wonderful marriage and talking until the sunset. 
Watching the sunsets together without a worry in the world. We felt so happy and so in-love. It was great to celebrate and remember our 10 year wedding anniversary. 
I can't wait to share more Vanuatu moments with you when we take our Nomadz6 family later this year. If you missed last weeks Ratua Private Island experience, you are going to fall in love again. 
I can't wait to share more Vanuatu moments with you when we take our Nomadz6 family later this year. If you missed last weeks Ratua Private Island experience, you are going to fall in love again. 
xxDani
365 Lifestyle Motivator