I am so thrilled you have joined me and my family with this amazing course. Learn everything you need to help you and your family get organised and thrive. 
Hi and welcome to our upcoming six week course
I get so many messages from women who are seeking support and advice to help get their families organised and stress free. So many of us are exhausted. The eye cream permanently sits in the refrigerator. Coffee has replaced water. Dark t-shirts are the primary wardrobe staple. (They hide all the mysterious food stains.)
Having a flourishing family is so difficult now as we juggle the emotional, logistical and health needs of the most important people in the world. Team work makes the dream work right?
On top of that, many of us are starting to work again. We also want to be as fit and strong as we can. Not to mention having a searing hot relationship with our partners. Surely that's not too much to ask?
If this sounds familiar, I've designed this course just for you.
Flourishing families provides you with the motivation, frameworks and tools to help your family thrive.
Over the next six weeks you'll be able to:
1. Set goals for yourself that make your heart skip with excitement across all areas of your life.
2. Create a vision for your family with the support of your partner that is both energising and achievable.
3. Establish what virtues you want to instil in your kids and give you simple ways of activating those virtues within them.
4. Put a plan in place that can actually make achieving those goals possible…yes, even with eight after school activities a week.
5. Become a time management mistress. You'll learn to recognise and overcome all those barriers that get in the way to having wonderful quality time.
6. Have a toolbox of the best ways to stay calm and guide the family through crisis and meltdowns. (No, wine is not included).
7. Work out how to achieve your goals within your family budget
8. Get the family home running optimally. Couple and family goals plus no more washing mountains.
9. We'll transform dinner for you into something that nourishes hearts, bodies and minds.
10. Learn how to manage expectations and say "no" when needed.
11. Have time to exercise, work on your future goals and bring some passion back into the relationship with your partner. (Tip: you might have to replace the dark stained t-shirt.)
12. We'll even tackle screentime… You can do it!
This will all be done with love, support, motivation and through community.
Who is this course for?
This course is for you. I know you want every member of your family to reach their potential.
Whether you're a mum, dads, soon-to-be parent, grandparents or carers you know the type of home you want to provide for those you love, but perhaps you're struggling to make that all happen.
I have taken everything I've learnt in raising my four children and my marriage with the most remarkable man, and structured it into a simple, motivation-filled course that will help you achieve your goals for your family.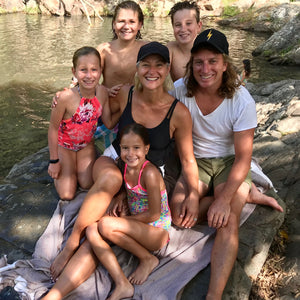 What they are saying
"Dani you really need to share more of your day to day family rituals so we too can implement within our lives. Thanks for the inspiration and motivating me each day." - Sally
"I have been following you for years Dani and when you launch your book, course or event I will be your first customer!" - Rachel
"I love watching your kids smiles, they are a true reflection of how you teach and raise them Dani. You truly walk your talk!" - Marianne
"How do you do it! Running an online business, keeping that smile on your face while you have your happy husband and kids, I want to learn more." - Samantha
"Firstly I want to acknowledge the great work you do in promoting health and fitness in the world through your business and social channels. My wife and I are constantly inspired and love watching your daily Instagram stories." - John and Katie
WIN a Family Getaway at The Hideaway in Cabarita Beach
EARLY BIRDS automatically get placed into a draw to win two family of 4 getaways to one of Australia's most prestige coastal beaches. Enjoy 2 nights at The Hideaway in Cabarita Beach. Glamping in a boutique style setting while surfing with the kids or strolling on the beach spending quality family time.
The Hideaway is the ideal place to relax, recharge and rejuvenate.
I cannot wait to hang out with you!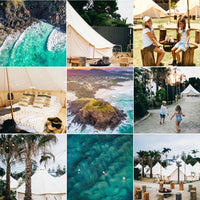 XxDani