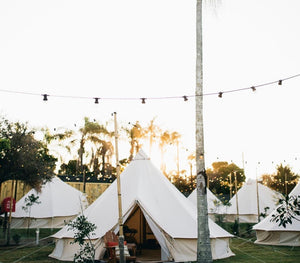 The Hideaway Cabarita Beach shares for sale
What a bitter sweet moment. It was a dream to be part of this glamping by the sea investment and family resort however we have decided to explore the world more with our Nomadz and selling our shares at The Hideaway Cabarita Beach.
The Hideaway Cabarita Beach 
Voted best beach in Australia 🌴☀️🌊🌺🐚
We are selling!!!! A rare and exclusive opportunity to acquire shares in "The Hideaway" Cabarita Beach @thehideawaycabaritabeach  

With 22 x bell tents, this is next level glamping at its finest. It is equipped with full functioning kitchen and bar facilities, break out areas, central fire pit (or your own if preferred). Toilet and bathrooms are beautifully styled making for a very comfortable stay.

The business is trading and already taking advantage of our growing region and its delights. This exciting glamping village will give couples, families, groups, weddings, wellness retreats, surf camps and more, a different type of experience that only Cabarita Beach can provide.

The opportunity will give you 4.4% ownership stake in both the business and land. Our initial investment was $130,000 which we put in approximately 18 months ago.

A change of circumstances AKA travelling the world with our @nomadz6 👫👬👭 in 2020 means we need to relinquish our stake, making our loss your gain. 
**Amazing long term capital gain potential with strong bookings**
Please call Adrian 0477712782 or send him an email.

Share and comment with any of your family and friends who would love this slice of paradise in their investment portfolio.

XxDani