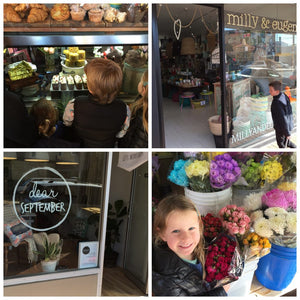 Belong Anywhere with Airbnb and travel often
Ahhhh take us back.... As you all know we recently took a trip with the wonderful crew at Airbnb and I tell you what the #belonganywhere hashtag is on point! We had such an amazing time in our hosts home, we felt right at home and we discovered some great local retailers in our local community which made the trip so friendly and fun. From the local bakery, florist, homeware stores and our favourite café – we spent our dollars to support the local businesses and had a blast doing it together.
Airbnb Belong anywhere local shops Dani Stevens
We even enjoyed the best burgers in Bondi - with a view. Back in our usual neighbourhood, we're cruising and exploring around in my Volvo so it was a fun change to hop on the Sydney to Bondi bus to take us everywhere we wanted to go.

Airbnb Belong Anywhere Bondi City2Surf Dani Stevens
Do you catch public transport? It's so handy and the extra walking in between stops and destinations added some extra movements to our days – the 10,000+ steps we were doing each day was the equivalent of climbing the Eiffel Tower 6 times! FELICITATIONS!!!
Have I told you lately how in love I am with my new wearable? It's tracking every move I make and when I am idling for too long, it simply beeps at me to get me moving again! It's about to buzz me now, so I'm outta here for my walk.
Before I go, I have to share how super proud of Adrian I am. He's been so diligent with his running and food regime this week. He is doing 6kms under 30 minutes which isn't bad for someone who hasn't been running for years!!!!
CITY2SURF NEXT WEEKEND
Pssst! Don't forget! You can still book yourself to the City2Surf event with Airbnb and go in the amazing draw to win an amazing pad on Bondi beach and go to the New York Marathon. WHOOSH!
TRAVEL
AS MUCH AS YOU CAN.
AS FAR AS YOU CAN.
AS LONG AS YOU CAN.
LIFE IS NOT MEANT TO
BE LIVED IN ONE PLACE.
FIND OUT MORE HERE.
Have a sensational day, until we meet again tomorrow or come follow me on Instagram.