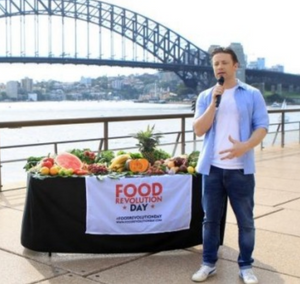 A Date With Dani and Jamie Oliver's Food Revolution
I'm so excited to share with you what will be an amazing day. Not only do YOU and I go on a hot date together but we go check out Jamie do his Food Revolution thing at the Sydney Opera House, teaching and educating us all to get back to basics and cook real fresh food. It's all about having fun in the kitchen and you know how much I love it and f u n  is just the essence here on Dani Stevens.com and that's why I can't wait to watch Jamie up on stage doing what we both love the most!
"My wish is to create a strong sustainable movement to educate every child about food, inspire families to cook again and empower people everywhere to fight obesity." - Jamie Oliver
Photo from The Australian 
Seem like a dream date?
You know if you dream BIG things happen right? You know YOU can make things happen. A doer, that's my middle name and I am one person that will never die wondering. Remember we did our November challenge last year and the Food Tube team joined us, what a buzz right? Then I get an amazing warm welcome on Jamie's Food Tube channel (it's like a NEON light every time you visit my home page!) to top it up, I get a personally graffiti "Comfort Food" cook book signed by the man himself just in time for my birthday!
Yes, welcome to my dreams. The next one is to officially get up close and personal with Jamie one day soon, meet and interview the man himself. Watch this space.
So make sure you're a member of  TeamDani (subscribe here) and let me know in the comments why you would love to be a part of my big day out :)
Conditions
You must be prepared to have loads of fun and laugh at all my jokes!!!
Enjoy eating food as much as I do and
Meet me at the Opera House in Sydney on Sunday 29th March at 11:00am for an unforgettable brunch date feast.
PLUS have loads of fun and laughs with me followed by Jamie's Food Rev show at 1pm.
Full itinerary provided to the winner next week. I am so excited to meeting you!
CONGRATULATIONS TO LIZ FOR WINNING A LUNCH DATE AND JOINING ME TO WATCH JAMIE
PLUS!!! I couldn't choose just one winner from all the amazing Team Dani interest that I have also invited the beautiful;
ALISON AND BEC to join me too! WOO HOOO!! This is going to be so much fun.
Go TeamDani!!!
xxDani