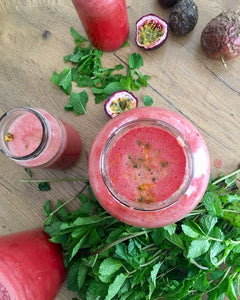 Watermelon Passionfruit Mint Wonder Juice
This watermelon passionfruit mint "Wonder Juice" makes my body feel amazing, especially after a workout. We have plenty of fresh mint in our garden and with a large watermelon and box of passionfruit over the weekend from the farmers market, I was on a juicing mission....
Here are the top 9 health benefits of eating watermelon;
Helps You Hydrate. 
Contains Nutrients and Beneficial Plant Compounds. 
Contains Compounds That May Help Prevent Cancer. 
May Improve Heart

 

Health. 
May Lower Inflammation and Oxidative Stress. 
May Help Prevent Macular Degeneration. 
May Help Relieve Muscle Soreness.
Not to mention mint, is a powerful anti-inflammatory. Many varieties of mint are traditionally consumed as an anti-inflammatory for the lungs. Mint is showing to have promising effects in clinical trials of asthma treatments by extracting the active nutrient rosmarinic acid, which can block inflammation. With both Oscar and I having a history of asthma we ensure we have mint regularly 
Ahhhhh passion fruit oh how I love thee. Passion fruit is highly rich in Vitamin C, beta-cryptoxanthin and alpha-carotene that boosts your immunity. It also has iron which increases haemoglobin in our red blood cells. The rich content of riboflavin (Vitamin B6) and niacin (Vitamin B3) in passion fruit helps in regulating the thyroid activity in our body. (thanks Google for all the nutritional facts)
So now you know, why I love placing these 3 simple ingredients together.
Watermelon Passionfruit Mint Juice
Ingredients
1 large watermelon
8-10 passionfruit
Large bunch of mint leave
Method
Using a juicer or in my case I used my Vitamix and blended all the ingredients together and I bottled 2 litres of this Wonder Juice.
Happy Tuesday and see you over on our Dani & Co. Facebook group page and let me know how your day was. I had an awesome pilates session and focusing on my strengthening my core to stabilise my lower back and get this back ache to ease off!
xxDani