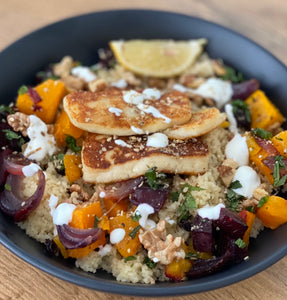 Pumpkin and Beetroot Haloumi Salad
This recipe is a beauty. You can either roast your veggies or if you are in a hurry like I was tonight, I used my fry pan which made the cooking process a lot quicker.
It's such a colourful dish, full of flavour and is one of our staple monthly recipes. 
Ingredients
1/2 pumpkin peeled and cubed
1-2 beetroot cubes
1 red onion sliced 
1 lemon cut into wedges
1 packet cooked quinoa
2-4 chicken stock (I use Massel vegan range)
1/2 cup of currants
1 cup of dukkah
1 cup of walnuts 
1 packet of vegan halloumi
Cocotribe Natural Yogurt
1 cucumber grated 
Handful of fresh mint
Salt and pepper to taste
Drizzle of olive oil
Method 
1. In an oven tray drizzle olive oil over the vegetables and roast in a preheated oven 180C degrees until golden brown or for a quicker version, pan fry. I used my new Circulon Total to grill my veggies.
2. Cook quinoa as per packet instructions, add chicken stock and currants. Meanwhile toast walnuts and dukkah and set aside. 
3. Grate cucumbers and squeeze off excess water, mix with Cocotribe natural yoghurt and mint. Add salt and pepper to taste. Set aside. 
4. Fry up halloumi and assemble plates with quinoa, vegetables, halloumi, sprinkle walnuts and drizzle this delicious fresh tzatziki sauce. 
I hope you enjoy making food and sharing it with your families.
Much love,
xxDani