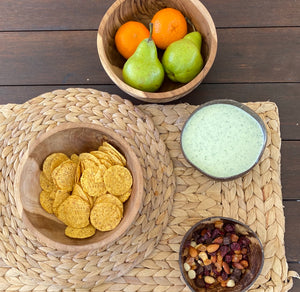 Dani's Super Quick 5 Minute Tzatziki Sauce
My girlfriend came over today to help me with some alcohol strategies and best tools for our Dani's Detox December challenge. As I was getting our platter ready, I tossed the corn chips into a bowl and reached for the hummus dip in the fridge but it was all gone.
Quickly I thought, what else could we dip these in? Low and behold I had half a tub of natural coconut yoghurt, 1/2 cucumber and knew instantly this was the basis of one epic Greek classic sauce. It was a hit.
Super Quick 5 Minute Tzatziki Sauce 
Ingredients
1/2 cup Cocotribe Natural Coconut (or Greek) Yoghurt
1x grated Cucumber (squeeze excess water)
1x garlic
handful of parsley (it's the only herb growing in my garden otherwise dill and chives would be amazing also)
1/2 lemon
Salt and Pepper to taste
Method
Place all ingredients into a blender and enjoy!
Over the years, I have identified I am a pantry princess. I can use the most minimal ingredients and create an epic dish. I want YOU too to be able to do this and simple google whatever ingredients you have in your pantry and fridge, google comes up with all the recipes and inspo.
It's how I have been cooking since the internet started hahahaha.
Happy Monday and come join me over on Instagram and our Facebook Dani & Co. group as we embark on a sober social scene!
xxDani