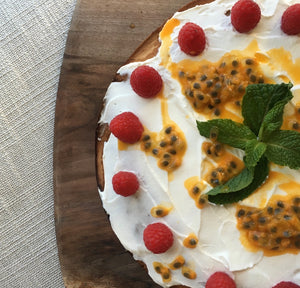 Vegan Vanilla Sponge Cake
I had the lovely opportunity of reviewing the NEW Sunbeam New York collection this week and baked a delicious vanilla sponge cake with the MixMaster Hand Mixer with HeatSoft Technology. It's the latest innovation in baking, gently heating beaters during mixing to soften ingredients for 12x faster, smoother and creamier results.  
Can you see the goodness? I hope you like my vegan style sponge cake both egg, dairy and gluten free!
Vegan Vanilla Sponge Cake
Ingredients 
1 cup corn flour
½ cup vegan custard powder
1-2 tablespoons custard sugar (depends on your sweet tooth)
1 tsp of bicarbonate soda
1 tsp of baking powder
1 tsp vanilla essence
Method 
1. Mix corn flour, custard powder, bicarbonate and baking powder in one bowl and in another bowl mix vegan eggs with custard sugar. 
2. Whisk the wet ingredients into dry mixture but not for too long (this is the secret to remaining so fluffy and soft!)
3. Grease a 30cm round or square tin, pour mixture and place into pre-heated 180-200C oven and cook until golden. Allow to cool 1-2hrs on a wire rack before decorating.
Decorate with whipped coconut cream and fresh or fruits! We used both raspberries and passionfruit which were a great combination with some mint.
I love the simplicity of this recipe and for more amazing Sunbeam products and their latest range, visit them here. 
xxDani