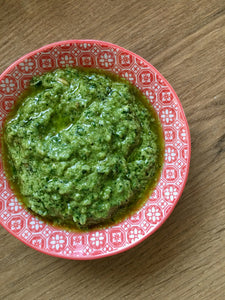 Vegan Pesto ready in 2 minutes
I can't live without this stuff. I used to use parmesan cheese but now with Nutritional Yeast (which not only provides all the nutrients and B12 our bodies need) it gives an awesome cheesy flavour.
Ingredients
Bunch of fresh basil
1 teaspoon Nutritional yeast
Handful of toasted pine or macadamia nut
Squeeze lemon or lime juice
Drizzle of olive oil and tepid water
Salt & Pepper to taste
Method
Place all ingredients into a bullet or food processor and blend until your preferred consistency. If too thick add more oil or water, if too runny add more nuts or basil.
Happy Sunday and let me know what you've been up to this weekend?
Watch all our weekend action on our Instagram stories or 365 replays on YouTube.
XxDani
365 Lifestyle Motivator