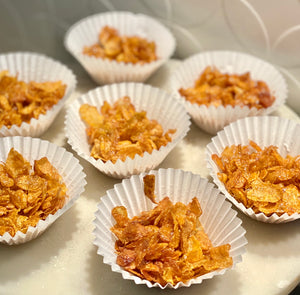 Honey joys were one of our favourite sweet snacks (I remember Tiffany from The Gracious Pantry helping me create this clean recipe a few years ago when we did our No Added Sugar Challenge) but now we have substituted the honey with these babies and haven't compromised a thing!  Of course with a healthy twist too.
This recipe is - egg free, fructose friendly, gluten free, grain free, nut free, paleo, wheat free.

I hope you enJOY!!!  
Vegan Enjoy Cups
Ingredients 
4 cups of Corn Flakes
2 Tbsp Rice Malt Syrup (or sweetener of choice)
100g or 1/2 cup of Nuttelex Buttery or Coconut oil
Patty pans
Method 
1. In a large saucepan melt "butter" and Rice Malt Syrup until it starts to bubble.

2. Remove off the heat and pour the cornflakes and combine well. Spoon into patty pans on an oven tray.

3. Bake at 150C/300F for 10 min or until slightly golden.

4. Allow to cool so they stick together (it's like toffee.)
Store in airtight container for a week if they're not gone like ours were hahahaha. 


It's a super quick treat when you're craving something sweet. Less the guilt. 

What's on for you this week?


xxDani