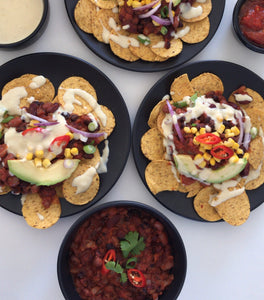 Vegan Cheesy Nacho Sauce and Bean Mix
Always a pleasure creating recipes for my friends at Macro available only at Woolsworths. It's been such a fabulous 6 months and our family have enjoyed all these delicious recipes I have been able to create.
Cheesy Nacho Sauce
Serves 4
Ingredients
5 tbsps Woolworths Free From Gluten Plain Flour
4 cups plant based milk of choice (I use soy)
1/2 cup Macro Nutritional Yeast Flakes
6 tbsp vegan butter or Macro Certified Organic Extra Virgin Olive Oil
1 tbsp dijon mustard
1/2 tsp onion powder  
Salt and pepper to taste
Method
Heat butter or oil in a saucepan and allow to bubble before sprinkling in flour.

Stir continuously as the flour begins to cook and change colour, add the milk slowly and stir vigorously to avoid any lumps.

Continue to stir until the sauce begins to thicken. If too thick add more milk.

Stir in the mustard, onion powder and nutritional yeast. Season with salt and pepper.
Enjoy!
Tip: I love using this sauce as a base with other vegetables such as adding cooked mushrooms for a delicious mushroom sauce.  
Nacho 3 Bean Mix
(Serves 4)
Ingredients
1 Macro Organic Onion, finely chopped
2 cloves Macro Organic Garlic, crushed
4 cans of Macro Certified Organic Mexican Style 3 Bean Mix
1 bottle of Macro Certified Organic Passata Sauce
1 tbsp of mixed cumin, chilli, paprika and garlic powder
Salt and pepper  
Drizzle of olive oil
Method
Sauté onions and garlic in fry pan with olive oil until soft.

Sprinkle Mexican spices and cook for 1 minute or until fragrant.   

Drain and rinse beans and add to the frypan with passata sauce.

Cook until all flavours marry together.

Enjoy! Time to pimp your nachos, tacos or burritos!
Tip: This is such a versatile Mexican bean sauce. Add your favourite fresh veggies for some extra nutritional value such as corn, cherry tomatoes, avocados and capsicums.
I hope you and your family enjoy making these!
xxDani