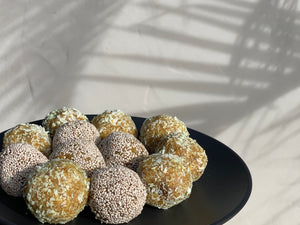 Nothing starts my day right than simplicity and this recipe (proudly brought to you by my wonderful Woolworths partners) is just that. 
I am such a fan of the Macro range and being able to develop and create recipes is my daily passion, especially being able to share it with you and my young family. 
Tumeric Latte Amazeballs  
(makes 18 small balls)  
 Ingredients 
1 cup Macro Certified Organic Raw Cashews, (soaked) 
1/2 cup Macro Certified Organic Shredded Coconut (extra will be required more for rolling if desired)
1 cup medjool dates, pits removed (about 10 - 12)
1 tablespoon Macro Turmeric Latte powder
1 tablespoon water or maple syrup
1/2 lemon rind 
Method
Place all these delicious ingredients into a blender and blitz together until they form a consistency to roll into balls. If too thick, add some water. 
Roll into small to medium balls and get creative! You can roll these AMAZE-balls in more Macro Certified Organic Shredded Coconut, Macro White Chia Seeds or Macro Hemp Seeds. The possibilities are endless.   
Tumeric Health Benefits
Turmeric is loaded with essential minerals, including magnesium, potassium and calcium. It's also an excellent source of fiber, vitamin B6 and zinc, and contains healthy amounts of vitamin C and magnesium.
While it's improbable that someone would ingest an entire ounce of turmeric in one sitting (although it would be completely safe), the nutritional aspects listed above can be easily obtained in this amount than in a teaspoon, which accounts for almost nothing. A more reasonable serving is about 1 tablespoon, which communicates excellent phytonutrients.
Research has shown that turmeric may help reduce gas and bloating, decrease congestion and improve skin conditions such as eczema, psoriasis and acne.
Turmeric has been used as a powerful anti-inflammatory in Chinese and Indian medicine for millennia. Curcumin, the primary pharmacological agent in this spice, contains proven effects in this area that are comparable to over-the-counter anti-inflammatory agents as well as some prescription medications. But curcumin doesn't produce the toxic effect that synthetic drugs sometimes do, such as ulcer formation, increased bleeding and possible allergic reactions.
Continue reading more Food Facts here. 
Enjoy this super quick recipe that is so satisfying with a cup of coffee or peppermint tea.
"May your cup overflow with peace, love and pure awesomeness today."
HAPPY MONDAY!
XxDani