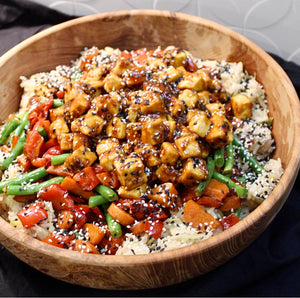 Teriyaki Glazed Tofu with Brown Rice
This would go down as one of the tastiest dinner dishes ever! Super simple and jam packed with so many wonderful flavours, your family is going to love it! Not to mention all the nutritional health benefits these ingredients provide. Here is just a snapshot of some of them;
Tofu is a good source of protein and contains all nine essential amino acids. It is also a valuable plant source of iron and calcium and the minerals manganese and phosphorous. In addition to this, it also contains magnesium, copper, zinc and vitamin B1.
Thanks to its bran layer, brown rice is more nutritious than its white cousin. High in antioxidant vitamin E, key minerals and 'good' fats, it also has magnesium, which is essential for strong bones, and potassium, which helps control blood pressure.
Sesame seeds are rich in fibre, phytonutrients and healthy mono- and polyunsaturated fats (such as omega-3 and omega-6 fats) which are beneficial for heart health and reducing inflammation.
Teriyaki Glazed Tofu with Brown Rice
Ingredients
2-3 cups of cooked brown rice
1 chopped carrot
grated fresh ginger (or 1tsp ginger powder)
1 red capsicum sliced
250g green beans trimmed
1 pinch chilli flakes
½ lemon sliced into wedges
½ block firm tofu cut into 1cm pieces
A dust of flour
1 tbsp mixed sesame seeds
2-3 tbsp teriyaki sauce
Splash of olive oil
Method
1. Finely grate the ginger and garlic. In a medium saucepan, splash a dash of olive oil over a medium heat. Add the ginger and garlic and cook until fragrant, 1-2 minutes. Set aside with your cooked brown rice.
2. Add the carrot, capsicum and beans and cook, stirring occasionally, until tender, 5 minutes. TIP: Add a splash of water to speed up the cooking. Add a pinch of chilli flakes (if using) and cook until fragrant, 1 minute. Season with salt and pepper.
FYI: I transfer the veggies on top of the cooked brown rice and cover to keep warm. 
3. In a medium bowl, combine the firm tofu and plain flour and toss to coat.
4. Return the frying pan to a medium-high heat with a good drizzle of olive oil. When the oil is hot, add the tofu and cook, turning occasionally, until golden, 5-7 minutes. Remove the pan from the heat and add the mixed sesame seeds and teriyaki sauce. Toss to coat the tofu in the sauce mixture.
5. Divide the garlic-ginger rice between bowls (unless doing a large family like mine pictured above). Top with the veggies and teriyaki tofu. Spoon over any excess sauce remaining in the pan, sprinkle with the crispy shallots and top with a squeeze of lemon juice.
Big love and shout out to our friends at HelloFresh for making our life easy cooking for a family of six.
What's for dinner at yours?
xxDani