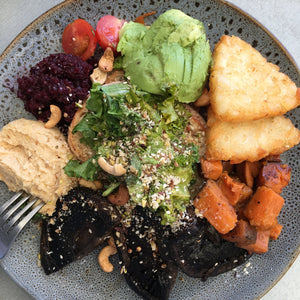 What a delight this is to make! The aromas are outta this world. The ingredients are simply found in your pantry which is the easy part. 
I've loved this recipe from so many inspirational people over the years and here's one of my fave combinations. 
You can mix things up and use herbs eg: thyme or mint, dried chilly, anise seeds, fennel seeds etc. As for the type of nuts you can use, most recipes have roasted almonds and hazelnuts, however, I've used pine nuts, pistachios, macadamia, cashew nuts or all of the above. 
As I mentioned it's a pantry staple recipe you can simply explore and experiment yourself.  
Delicious Dukkah 
Ingredients  
2/3 cup hazelnuts
1/2 cup sesame seeds
2 tablespoons coriander seeds
2 tablespoons cumin seeds
2 teaspoons freshly ground black pepper
1 teaspoon Himalayan  sea salt 
Method 
I simply use the stove top and pre-toast all my nuts and spices. Ensure you remove the hazelnut skin (I rub them between a tea towel).
Use a blender or a morta and pestle to make a fine mixture and combine all these aromatic flavours together. 
We love serving ours with crusty bread and dipping it in olive oil. Or sprinkling it ontop of our lunch salads or dinners!  
Happy Tuesday!  Watch our day on our Instagram stories and BIG LOVE to Kidspot for featuring my recipe. 
xxDani