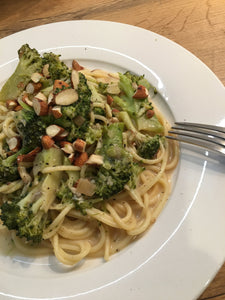 Super Delicious And Creamy Brocolli Pasta
This was so super quick to make last night. As the Pasta took under 10 minutes so did this dish. Brilliant for those after footy nights and kids are famished.

Super Delicious And Creamy Brocolli Pasta

Ingredients (serves 6)
2 heads of broccoli
1 finely chopped onion
2 crushed garlic
1-2 cups of vegan chicken stock
Salt & Pepper
1tbs flour
1tbs Nutritional Yeast (see video below)
1 packet of pasta
1/2 cup of Soy milk
Handful of roasted almonds
Method
While pasta is cooking, in a deep pot sauté onions and garlic until translucent. Add washed and chopped broccoli florets into pot with chicken stock and cook until al dente.
In a small saucepan add some vegan butter or oil if your choice and heat up with flour. Add a splash of soy milk and chicken stock until you get your thickened sauce.
Once pasta is cooked, drain and add sauce and brocolli.
Enjoy!