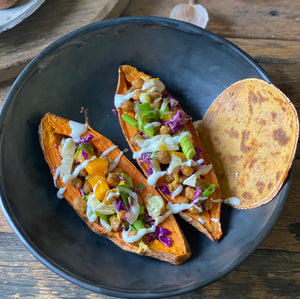 Sunday Night Sweet Potato Boats
Our February challenge has kicked off and by popular demand it's a duo Fitness and Food one. So here we go with tonight's dinner! 

These sweet potato boats are simply divine and inspired by my gorgeous new girlfriend and Karen Fischer, who made these over the school holidays and now they are a Sunday night staple at our house. 
Sweet Potato Boats with Chickpea Salad
Ingredients 
4-6 sweet potatoes 
1 cup of chickpeas 
1 cup corn 
1 cup shredded lettuce or cabbage 
1 diced mango 
Vegan aioli to drizzle 
Olive oil 
Salt and pepper to taste
Method
1. Preheat oven to 180C degrees and wash/pat dry sweet potatoes, slice them in half and place in a pre-greased oven tray.  
2. Cook 30-40 minutes or until soft and allow to cool. Once cool, scoop out flesh, mash with fork and set aside in a bowl. 
3. Slice cabbage, spring onions, mangos and add chickpeas into the sweet potato mash mix. 
4. Decorate this dream sweet potato boat with the mix, add sweet corn and cabbage on top, drizzle with aioli and enjoy!

Simply serve with your favourite side salad. I oven baked some more chickpeas, sprinkled with cinnamon and tossed with a green leaf mix, drizzled maple and olive oil and it was divine!
This dinner is super easy as the sweet potato bake while we spend Sunday family time and get organised for our week ahead. 


Sweet potatoes are nutritious, fibre and 
rich in an antioxidant called beta carotene, which is very effective at raising blood levels of vitamin A, particularly in children. 
They're super versatile as you can eat them steamed, boiled, baked 
or fried. Check more on our Instagram stories. 
What's for dinner at yours??? 
You are made to be AWESOME!