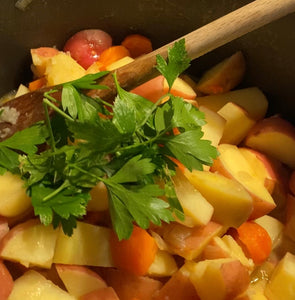 Simple Potato and Carrot Soup
Pretty basic I know, but it's the tastiest soup ever! I grew up on soups and stews and Mum used to make a massive batch and we would eat it all week. Mums Serbian cooking was always a hit but not when we had to eat the same dish every single day.
I remember Dad cooking up his Croatian style French Toast, I have such fond memories of my childhood and that's why I am so passionate cooking the kitchen.
Ingredients
1 tbs olive oil
2 medium onions, chopped
5 garlic cloves, crushed
salt and pepper
4-6 medium carrots, sliced
8 cups of vegetable stock
1kg potatoes, diced into chunks
2 sprigs of parsley
Method
In a large pot, heat olive oil and saute onions with garlic. Add carrots and potato, garlic, salt and pepper and pour chicken stock. Allow to simmer for 30+ minutes. I have an induction Miele cook top which has dinner so much quicker these days. Serve this soup with crusty bread and coconut butter! Delish.
I love making my night easy and playing with our kids while dinner is cooking. 
Happy Wednesday, let me know how your week is going below or over on Instagram or Facebook.
xxDani