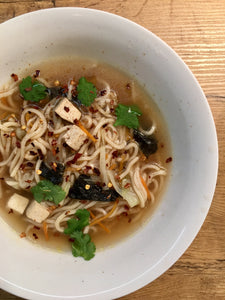 We had Japanese over the weekend and I had ramen soup which was so tasty, it inspired me to make tonight's dinner.
It's my very first attempt and I nailed it. So can you!
For the stock (serves 6)
6 cups of chicken stock
4 cups water
6 garlic cloves
1 sliced onion
8 tbsp soy sauce
2 tsp worsterchire sauce
1 tbs chinese five spice
dash of chilli powder
2 tsp white sugar
4 slices of ginger
Coriander
For the topping
Packet of cooked noodles which serves 6
500g sliced tofu (marinate in soy sauce and garlic)
200g baby english spinach leaves or sliced carrots
1/2 cabbage
For the garnish
1 sheet of shredded nori seaweed paper
sprinkle of sesame seeds
sliced green spring onions (shallots)
Method
Slice and fry the onions and tofu in a large saucepan with 1 crushed garlic, soy sauce and sesame oil. Put into a bowl and reserve. NB: Alternatively you can simply place cubed tofu directly in boiling stock.
In the large saucepan, add the chicken stock, garlic cloves, soy sauce, worsterchire, ginger, five spice and chilli powder together and bring to boil. Reduce to simmer for 5 min.
Taste the stock and adjust to your liking. If it is too salty add some water or add more soy if you prefer it saltier.
Divide the noodles into 6 soup bowls. Arrange the tofu on top of the noodles, along with the spinach, carrots and cabbage. Pour the soup.
Sprinkle with seaweed shavings (Oscar did this in the pot) add spring onions, coriander and sesame on top of each soup bowl.
ENJOY!!!! Let me know when you make it and tag me #ds365vegan on Instagram and Facebook.
Happy Wednesday! Here's what we got up to;
For more delicious and easy family meals buy my latest 30 Days Fitness and Food ebook.
XxDani
365 Lifestyle Motivator