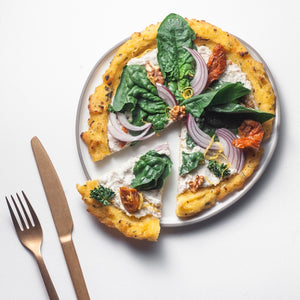 Gluten Free Polenta Pizza with Sunflower Curd
As you know polenta is a staple in my Balkan pantry. From the delicious puddings to breads it's super versatile and gluten free!
When I came across this polenta pizza by Adam Siedlecki, I knew I had to interview him and get this incredible recipe. 
Gluten Free Polenta Pizza with Sunflower Curd
more amazing recipes Magazyn KUKBUK
Serves 4 people (45 minutes)
Components:
Polenta:
Water 600 ml
salt 2 teaspoons
1 teaspoon fresh oregano
1 teaspoon fresh thyme
200 g corn porridge
2 tablespoons olive oil
salt and pepper to taste
Method:
Boil water, add spices and groats, finally oil. We cook 20 minutes on low heat, stirring constantly.
We pour onto a parchment lined sheet and form circles 1.5 cm thick. We form the edges. We leave it to cool.
Curd from sunflower:
1 cup shelled sunflower
1 cup spring water
4 teaspoons yeast flakes (inactive)
half lemon juice (possibly pickled cucumber water)
salt
4 teaspoons chopped dill
4 teaspoons chopped chives
Method:
Rinse the sunflower on a sieve (it will not be washed out in an ugly grey colour). While mixing, pour water in the goblet mixer until a creamy consistency is obtained, remembering that in the next hours the mass will thicken. Then mix with the rest of the ingredients except dill and chives. Season with salt, add dill and chives and mix by hand so as not to grind them. The water we use should be boiled and cooled down, or mineral.
Toppings:
5 g spinach leaves
1 peeled red chopped onion
dried tomatoes
capers
walnuts
lemon peel
Ensemble:
Cooled polenta, smear with a brush with oil, bake at 230C degrees until the edges become browned and crispy. Then we grease with sunflower curd cheese and we put additions on top.
Adam Siedlecki is a head chef at Leonardo verde Restaurant since 2018, loves mountains and dogs.
He has developed and conducted many cooking workshops for top animal charities: Open Cages and Viva!
He has gained experience as a sous chef at top restaurant: "La Iberica", as voted by Gazeta newspaper.
In his own words: "I have been developing my skills as a professional chef from ten years now, starting with Mediterranean cuisine and after years of experience in different types of restaurants I returned to plant based cooking, finding many challenges and fulfilment at Leonardo Verde. As a team we aim to reduce the harmful effects on the environment whilst creating creating delicious and simple dishes which are also full of flavor. I enjoy creating vegan versions of Italian and Spanish classic dishes."
1.​ How do you usually start your day?
I like to get up with the sun, while my family is still asleep. I make myself a cup of hot tea and step out on the balcony where I proceed to plan my day in peace and quiet. The city is about to come to life as I'm charging my batteries with the first rays of the morning sun. It is in this moment of morning clarity that best ideas and inspirations pop up to my head. Next, it's time for the family breakfast. I feel truly blessed that I can share the first meal of the day with the loved ones. Overall, I find cooking gratifying, but preparing and sharing the first meal of the day with the loved ones reminds me of my purpose and puts me in a special mood. The breakfast is followed by a thirty-minute walk to the restaurant. Calm and quiet mornings prepare me to take in the rest of the day with greater sense of awareness and inner peace.
2.​ When did you first become passionate about cooking vegan food ?
The social environment in which I grew up was immersed in veganism. It was only natural that I transitioned to vegan diet while still being a teenager. Already then, I had to start to balance my diet. However, my family did not look at my diet favorably; they thought of veganism as a dietary "oddity".
When I was 18, I started to work as commis chef in a Spanish restaurant. Back then there was no vegan gastronomy in Poland. Almost by default, in order to keep developing my skills I had to try more and more of the meat dishes. Gradually the plant-based diet began to disappear from my life. Vegan hiatus lasted until my daughter was born. At that time, I started wondering what kind of values I would like to instill in her. I realized that veganism was part of my identity and that by eating meat I acted against my nature and against my ideals. I think that being happier and more fulfilled as a parent will help in raising happy and fulfilled child. That's when I decided to return to the plant based diet and to become a chef in a vegan restaurant. I wanted to use my prior culinary experiences and skills to elevate the vegan cuisine. 
3.​ What does a healthy lifestyle look like to you?
I think of a healthy lifestyle in terms of balance; physiological and spiritual equilibrium. We need to take care of our bodies and minds equally. In order to maintain a healthier body, I excluded sugar and processed foods from my family's diet. We try to get supplies from local farmers and from local farmers market. It allows us to get to know the growers of our food on the first name basis, exchange ideas, and ask them how they grow their produce. I make sure that despite my busy schedule and physically demanding career I find time for a good workout. Morning jog or evening training session at the boxing gym recharges my body and spirit. Maintaining balanced body and psyche goes hand in hand with balanced vegan diet. 
4.​  What's a childhood habit or mannerism that has followed you into adulthood?
I've always drunk lots of hot beverages; ever since my childhood days. It just so happened that I grew fond of drinking hot beverages with the spoon remaining in the mug. I brew hot tea or coffee, poor it into the mug, stir it but the spoon is not going anywhere. It stays in the mug until I'm done. Unlike 007 I take my hot beverages stirred, with a spoon. My parents tried to break that habit but to no avail. It persists until this very day. If you ever visit a restaurant or attend a business meeting and notice a guy sipping a cup of coffee with the spoon still sticking out of it, you know it's most likely me.
5. What can we find on your plate?
All types of groats, pickled (fermentated) food, variety of pressed oils from local seeds, root vegetables, tempeh, carrots of different color varieties (kids especially like them!)
6.​ Name three things you can't leave the house without and why?
A swiss army knife.
A book; currently "Wild Fermentation" by Sandor Kats – I try to fill rare moments of inactivity with a good read.
House keys; can't leave without them but … quite frequently I leave them at home
7.​ Who's inspires you?
I'm inspired by the people I meet during my daily walks. I'm inspired by the stories they tell and by the stories I overhear them telling.
Thank you so much Adam for sharing your life with us. It's been amazing getting to know you more. 
When you come visit us in The Land Down Under, I look forward to showing you our sun rising in the best beach in Australia!!!! 
xxDani