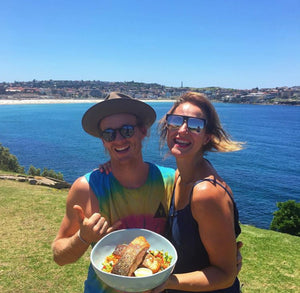 Papaya Salsa Salad and cooking with Bondi Harvest
What a a fantastic cooking experience with the guys from Bondi Harvest. Guy Turland and Mark Alston joined me on the hilltops overlooking Bondi Beach and cooking the most sensational food!
Check it out;
Papaya Salsa Salad and cooking with Bondi Harvest
serves 4
Ingredients
3/4 cup peeled and chopped papaya
1/4 cup chopped yellow & red capsicum
1/4 cup thinly sliced spring onion
1 tbsp chopped fresh mint
1 tbsp fresh lime juice
1 tsp grated fresh ginger
1 tsp seeded and minced jalapeño pepper
Olive oil
Salt & pepper
4 salmon steaks *optional 
Preparation
For salsa, combine all ingredients except the salmon in a small bowl.
Cover and chill at least 30 minutes.
Lightly coat grill or pan with olive oils.
Salt and pepper salmon.
Grill for 5 minutes on each side or until done.
Top salmon with 1/4 cup salsa and serve with couscous, brown rice or quinoa.
It was loads of fun cooking with you Guy, let's do it again soon!
Tag me when you make this, it's going to blow your taste buds! See you over on Instagram. 
xxDani