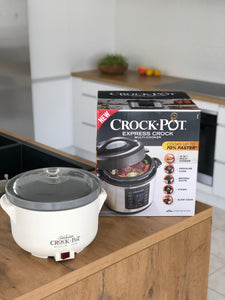 One Crock-Pot Recipe That Makes Five Dinners
It doesn't matter if it's hot or not. Summer or winter, I have been a massive Crock-Pot user. You can pretty much tell with the image below that my Mother's hand me down vintage Crock-Pot from the 70's has served our families well. When Crock-Pot gifted me a new one and invited to me share my Crock-Pot favourite recipes with you, I couldn't resist.
Crock-Pot, has released the 'Crock-Pot Express Crock Multi-Cooker'!!!! It's a one-stop cooking machine!!!! You name it, this baby can do it all. It has a 12 in 1 multi-cooker that can Pressure Cook, Slow Cook, Steam, Sauté so all you need to do is prep the food and this convenient appliance does the rest. It sure has simplified the cooking process for me with it's easy control panel and the 7 in one touch button. Using the Pressure Cook function, you can serve-up delicious, home-cooked meals in just under an hour. That's vital in our busy household.
Having a family of six (seven, counting Nina our little French Bulldog. She eats what we eat) I love cooking and being organized. Meal planning and having dinners sorted on Sundays is paramount for me as I love my week to run smoothly and we don't have those "What's for dinner?" questions pop up or "mid-week meal dilemma". Usually we have our chalkboard menu written up and the kids love placing their favourite meals on the board.
Monday – Vegetarian lasagna
Tuesday – Tuesday taco's
Wednesday – Garden pappardelle vegetable pasta
Thursday – Stuffed red peppers
Friday – Lettuce cups
Can you believe this one staple recipe of mine can make 5 dinners for the week? It's genius, I know!
VEGETABLE BOLOGNESE AND RAGU MIX
Ingredients
1x 500g Textured Vegetable Protein (TVP)
1 finely diced onion
1-2 finely diced carrots
1-2 finely diced celery sticks
1-2 diced zucchinis
500g sliced mushrooms
2 crushed garlics
Salt and pepper
1-2tbs tomato paste
1-2 bottles of passata sauce
1 cup of water
Method
Press BROWN/SAUTE adjust time to 8 minutes and press START/STOP and allow to preheat.
Add olive oil and saute vegetables for approx.. 3-4 minutes
Stir in the TVP, tomato sauce, tomato paste, and any herbs, then fit secure the lid and press SLOW COOK.
Go to work or sit back and relax or play with your kids while this works it's magic.
The variations this meat free mix can make throughout the week is endless, how amazing do all these meals look?
We love the convenience of lettuce cups, so fresh especially during summer!!! It's our absolute favourite and kids love packing them for school lunches as well.
The beauty of slow cooking is it does not destroy any nutrients. In fact, the lower temperatures may help preserve nutrients that can be lost when food is cooked rapidly at high heat.
Here are some more benefits on cooking with a Crock-Pot Express Crock Multi-Cooker;
Having a meal at home in the slow cooker eliminates the temptation to order take-out which is often less nutritious and more expensive.
Less time in the kitchen and more time dining together – e.g. 'togetherness' through our 'one-pot' meal cooking alternative.
Crock-Pot as the modern cooking 'go-to' for simple entertaining and convenience cooking.
The new Crock-Pot Express Crock Multi-Cooker is a multi-cooker which has 7 one-touch meal options
Serve a healthy, home-cooked meal to your family in under an hour!
A slow cooker uses less electricity than an oven.
The Crock-Pot Express Crock Multi-Cooker seals in juices & flavours and easily sautés veggies – no stove top cooking required!
Some of the other recipes I love making in our Crock-Pot are home-made coconut yoghurt, porridge, bread and butter pudding, vegetable risotto, hummus, express paella, red wine poached pears, double chocolate pudding the list is endless.
As Christmas is only around the corner, I would love to gift you this awesome Crock-Pot Express Crock Multi-Cooker. Please fill in this form (Australian winner announced in my newsletter on Wednesday 12th December 2018) and I will personally mail one out to you, so you can relax on Christmas Day while your Crock-Pot does all the work.