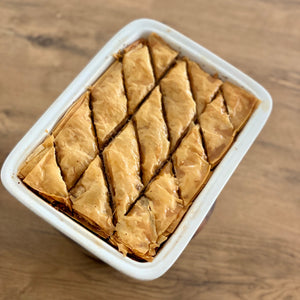 One of my most favourite desserts since my early teens. I remember my mother's best friend making it and then mum made some and here I am now, making it for my kids. 
What I love about this recipe, it's simple. Truly, only a few ingredients go into Baklava. Filo pastry, walnuts or pistachios (or mix both), butter, maple syrup, sugar, lemon, cinnamon and water.
Baklava 
Ingredients 
40 sheets filo pastry (2 x 375g or 1 x 1lb pack, Note 1 for pack sizes)
500g walnuts (you can also use pistachios)
285 g / 10 oz unsalted butter , melted and slightly cooled
1 tsp cinnamon powder

SYRUP:
1 cup / 200g white sugar
2 tbsp lemon juice
3/4 cup / 185 ml water
1/2 cup / 170 g maple or rice malt syrup

Method:

1. For best results, thaw filo pastry overnight in the fridge then take out of the fridge 30 minutes prior.
2. Place nuts and cinnamon in a food processor. Pulse 15 times or until fine crumbs - don't let it turn into powder.

3. Preheat oven to 160C / 325F.

4. Base: Brush base of pan with butter. Lay over one sheet of filo. Brush with butter. Repeat to use 10 sheets, brushing every single sheet with butter. Scatter over 3/4 cup walnuts.
Mid layers: Cover with 5 sheets of phyllo, brushing every sheet with butter. Top with 3/4 cup walnuts. Repeat 3 more times.
5. Cut the baklava into 4 long strips, then cut on the diagonal to make diamonds. Bake for 1 hour - 1 hr 15 minutes until golden brown.

6. Meanwhile, make syrup (needs time to cool)
Remove from oven and immediately pour over syrup.

7. Leave to soak for at least 6 hours, preferably overnight.


Enjoy!!!! I could eat this every week but I can't, life is all about balance so maybe I'll make it for Mother's Day.

Happy Tuesday.

XxDani