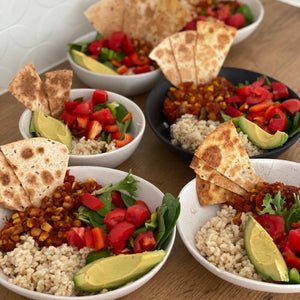 Super quick and easy dish that remains inside the bowl vs wrapping the tortillas. I'm all about making things easy to clean up during this self isolation/ lockdown period. Tell a lie, I try and do it daily as I have a family of 7 and forever cleaning my house HAHAHAHA 

This is a quick Friday night dinner or lunch and most of your ingredients are pantry based. Be creative and mix things up yourself with your seasonal produce, herbs and spices etc...

Ingredients (serves 6)
1-2 packets of flat bread or tortillas 
2-3 cups of cooked brown rice 
2 cans of corn 
2 cans of black beans (or any legume variety)
3-4 ripe tomatoes 
2 avocados 
1-2 cucumbers or spinach leaves 
1 brown onion diced
2 crushed garlics 
1tbs Mexican spice mix 
2 cans crushed tomatoes 
1tbs tomato paste 
Olive oil
Salt and pepper to taste 
Method
1. Sauté onions and garlic until fragrant, add Mexican spice, splash of water and simmer for 2 minutes.


2. Add corn, legumes with crushed tomatoes and tomato paste. Add salt and pepper. 
3. Meanwhile chop fresh produce eg: tomatoes, cucumbers and wash spinach. Slice avocados.


4. With a sandwich press or hot pan, drizzle olive oil and lightly toast flat bread. Once cool, cut into bite size triangles. 
5. Once mixture has been simmering for 10 minutes, assemble bowls with rice, Mexican mixture, fresh tomatoes, avocado etc....and nacho taco shape bread, garnish with coriander and chilli!!! Enjoy!
XxDani