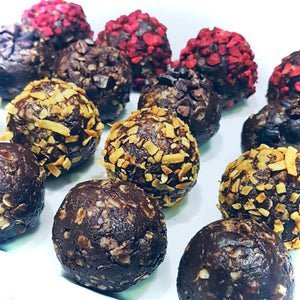 Melted Chocolate Bliss Balls
I have made plenty of bliss and protein balls in my life but this recipe is the best!!! I came across Marianne over on Instagram a couple of years ago and absolutely love what she does. 
Melted Chocolate Bliss Balls
Ingredients
160g dark chocolate
100ml coconut milk
2 cups oat flakes
3/4 cup natural peanut butter
1/3tsp salt
1/2tsp ground cinnamon
1/2tsp ground cardamon
Method
Melt the chocolate with nut milk then mix in rest of the ingredients. rolled into balls and chilled before eating.
Life is meant to be simple and this recipe is just that. If you want to funk it up a little, roll them in chia seeds, goji berries, coconut flakes etc... and add extra protein powder for a great post workout snack!
These are just perfect for after school snacks and for kids lunch boxes. I hope you enjoy !
Happy Monday and see you over on my Facebook Dani & Co. group page for more tips and everyday connection.  
xxDani