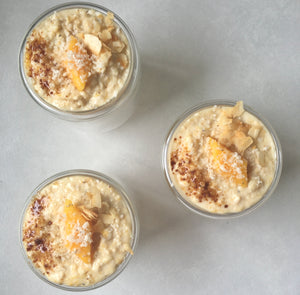 Mango Coconut Magic Overnight Oats
This is something you can whip up before you collapse onto the couch with a bit of Netflix action or just before you head to bed.
I love making these the night before as it's a super quick ensemble of fruit and yogurt and whatever toppings you have in the freezer, fresh fruit bowl or pantry.
Mango Coconut Magic Overnight Oats
Ingredients 
½ cup rolled old fashioned oats
½ cup plant based milk (soy, almond, coconut) 
¼ cup coconut or soy yogurt
1 tablespoon chia seeds
1 tablespoon sweetener of choice (rice malt, maple syrup, palm sugar)
1/4 teaspoon vanilla extract
Method
Place all ingredients into a large glass container and mix until combined.
Cover the glass container with a lid or plastic wrap. Place in the refrigerator for at least 2 hours or overnight.
You can experiment with toppings either the night before (it will be more infused) or add before serving. If the mixture is too thick, add more water or milk and mix. 
Extra Topping Ideas
Nutella with banana's and chopped hazelnuts! 1tsp nutella, 1/2 banana sliced, 1tsp hazelnuts.
Apple Cinnamon, grate 1/2 apple and sprinkle cinnamon. Add 3-4 chopped pecan nuts, drizzle with maple syrup. 
Peanut butter jelly, 1tbs peanut butter and 1tsp strawberry jam. Add extra peanuts for added crunch.
Mango Coconut Magic, use fresh mango's (frozen works well too) and add 1tsb coconut shards, 1/2 tsp coconut sugar and slivered almonds to decorate and taste. 
This is a really simple breakfast and dessert meal prep that always comes in handy for our little humans. I find it satisfying when I want a sweet treat when I am watching tv so my fave is the Nutella version.
Happy Wednesday!
xxDani