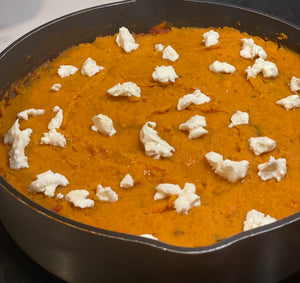 Lentil Sweet Potato Shepherd's Pie

BIG love to HelloFresh for this delicious recipe. It's one of the most flavoursome Shepherds Pies I've ever had. The hint of thyme and rosemary is pure perfection. I hope you enjoyed watching my Instagram stories with the steps, now you can too with the recipe below;
Lentil Sweet Potato Shepherd's Pie
1 bag baby

 spinach leaves
1 packet shredded

 Cheddar cheese
Step 1
Bring a large saucepan of salted water to the boil. Peel the sweet potato and cut into 2cm chunks. Add the sweet potato to the boiling water and cook until tender, 10-15 minutes. Drain and return to the saucepan. Add butter (50g for 2 people / 100g for 4 people) and the salt and mash with a potato masher or fork until smooth. Set aside.

Step 2
While the sweet potato is cooking, finely chop the brown onion. Finely chop the carrot (unpeeled). Finely chop the garlic (or use a garlic press). Pick and finely chop the rosemary leaves. Pick the thyme leaves. Drain and rinse the lentils.


Step 3
Preheat the grill to medium-high. In a large frying pan, heat a drizzle of olive oil over a medium-high heat. Add the onion and carrot and cook until softened, 5-6 minutes. Add the garlic, rosemary, thyme and tomato paste and cook, stirring, until fragrant and the tomato paste has darkened, 2-3 minutes.
Step 4
Add the lentils, diced tomatoes, brown sugar, the water, crumbled vegetable stock (1 cube for 2 people / 2 cubes for 4 people) and the remaining butter to the frying pan. Simmer until reduced slightly, 5-7 minutes. Stir in the baby spinach leaves until wilted. TIP: Add a dash of water if the mixture looks dry!


Step 5
Transfer the filling to a medium baking dish. Top with the sweet potato mash and sprinkle with the shredded Cheddar cheese. Grill until the cheese is melted, 8-10 minutes.
I hope you enjoy and tag me #danistevens when you make this dish.
Happy Wednesday 💋💋💋
xxDani