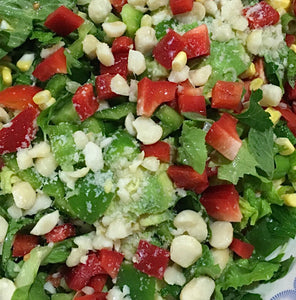 Fiesta Avocado Macadamia Nut Salad
My quick (healthy) and easy lunch concoction today. Super tasty and even Zali enjoyed it. Check the previous post for our snapchats!
Fiesta Avocado Macadamia Nut Salad
Ingredients (serves 1)
Handful of Green Leaf Salad
1/2 Avocado
1/2 Red Capsicum 
1 Fresh Cob Corn (tinned work too)
10-12 Macadamia nuts (for that extra crunch)
1/2 cup cooked Lentils (optional)
Lemon juice
Salt and pepper
Olive oil
Method
Mix and toss all these beautiful ingredients together and drizzle olive oil, salt and pepper, and lemon juice.
I love crushing the macadamia nuts for that added crunch and creamier texture!
Enjoy!
xxDani