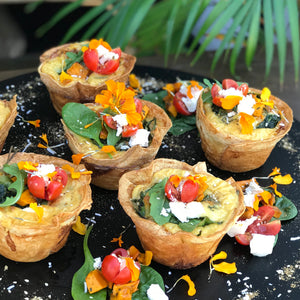 It's been wonderful creating these original recipes and working with the Macro team these last couple of months. Nothing brings me more joy than sharing with you a range of simple, wholesome foods that are nutritious, delicious and affordable to everyday Australians. Macro is only available at Woolworths and it's my first choice when it comes to buying food for my family of six.
Not only are these delicious muffin quiches dairy and meat free but they're also gluten free as well.
Inspired by my Serbian mother as she used to make a one fry pan omelette style dish, I added a little Spanish twist with some corn tortillas only at Woolworths.
FIESTA FRITTATA'S
Ingredients
3 cups raw chopped vegetables (corn, red capsicum, grated zucchini)
1- 1 1/2 cups (150g-225g) Woolworths Free From Gluten Self Raising Flour
2tbs. Macro Broccoli Powder
1 cup (250ml) plant based milk
1 cup (80g) grated vegan tasty cheese
1 tsp wholegrain mustard
1pkt Woolworths Free From Gluten Corn Tortillas
Method
Preheat oven to 180°C (160°C fan-forced). Line a 12 cup muffin tin with Woolworths Free From Gluten Corn Tortillas and and set aside.
In a bowl place raw vegetables, Macro Broccoli Powder, 1 cup of Woolworths Free From Gluten Self Raising Flour, milk, cheese and mustard. Stir to combine.
Add extra flour if needed. Season well with salt and pepper. Place mixture into muffin liners and bake for 15-20 minutes.
Garnish with any other seasonal vegetables you have with some crumbled feta cheese.
ENJOY!!!
We love it! Our kids have them in their lunch boxes the next day and are a wonderful after school snack. May you too enjoy this rainbow coloured, versatile family fun meal too!
OLA!!!
xxDani
365 Lifestyle Motivator