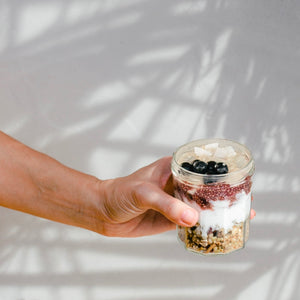 Custard Apple Fruit Parfait
I love custard apple season. Since moving up north I never really explored this fruit but now I'm loving all the variations from Smashed Avocado and Custard Apples on Toast, Custard Apple Berry Muffins and my favourite Custard Apple Lime and Pistachio Icecream.   
Custard Apples are rich in antioxidants, an excellent source of vitamins A, C and also contains fibre, magnesium and potassium. While the custard apple has countless health benefits, its leaves are equally nutritious. They are prized for their health benefits especially in Ayurveda.
There are two main varieties of Custard Apples. The Pinks Mammoth (or Hillary White), and the African Pride. Both are sweet, juicy and full of flavour. A new variety, Tropic Sun, is designed as a small tree for gardens and has sweet creamy fruit.
Next time you see custard apples, definitely treat yourself. 
Custard Apple Fruit Parfait
Ingredients (serves 4)

1-2 cups of Coco Tribe coconut yogurt
1/3 cup Brookfarm granola mix
1 teaspoon chia seeds
2 tablespoons milk
1 custard apple, peeled and seeded  
1 cup frozen mixed fruit and berries

Method

1. Combine together yogurt, granola, chia seeds, and milk in a bowl. Layer half inside a wide-mouth mason jar or tall container. 

2. Add half the custard apple, frozen fruit and berries. 

3. Continue layering the remaining yogurt, custard apple and berries and eat immediately or refrigerate overnight and enjoy it for breakfast.
How To Store Custard Apples 


Do not store green fruit under 8°C
Store at 8°C to 12°C for up to 5 days only, longer than this and chill injury occurs.
Fruit will not ripen under 14°C.
Extended periods at this temp will lead to chill injury.
During Winter store fruit in a warm area and cover to hold in their own warmth.
Best temperature range for ripening is 18° to 24°C.
Shelf life is short so buy small quantities more frequently.
Avoid small (under 300g) and dark green (immature) fruit.
Keep this fruit in mind when it's in season. It won't let you down. 
xxDani