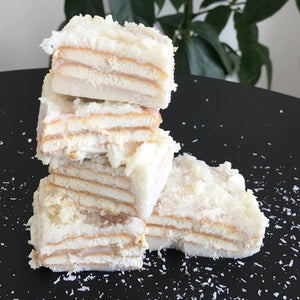 Ingredients
1 packet vegan biscuits
1 can of coconut condensed milk
Method
Simply layer biscuits in a freezer container and pour condensed milk and repeat the layers. Set overnight.
Thats it! Super simple or you can make your very own plant based condensed milk.
CONDENSED COCONUT MILK RECIPE
Bring coconut milk to the boil (whisk during this bubbly process!) Add your sweetener of choice (I use coconut sugar) and simmer gently until it reduces in volume to about half, you'll notice the thickness and creamy texture. That's it!!!
PLUSSSSS!!!! You can make other flavours like coconut caramel sauce - coconut milk, sweetener and salt together, boil for 3-5mins then simmer & stir for approx. 30mins patiently waiting for the volume to reduce. Stir in vanilla extract and allow to sit and cook. Place in the fridge to speed up the thickness.
This homemade condensed milk is the best for #dairyfree and vegan caramel slices combo!!!! I hope you love it as much as we do xox
Happy Saturday!
xxDani
365 Lifestyle Motivator