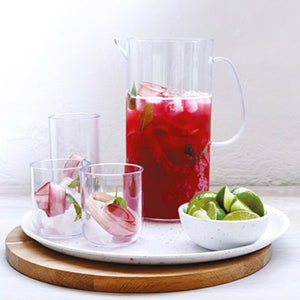 Christmas Festive Raspberry Cordial
Happy Christmas Eve!!! Not long now. I love this festive drink from the fabulous Donna Hay. So great during our #danidetoxdecember challenge. 
RASPBERRY CORDIAL
This cordial is a versatile base, mix with soda or tonic water to make a refreshing drink and finish with strips of fresh rhubarb, mint and lime wedges. 
Ingredients
375g raspberries
1 cup (220g) caster* (superfine) sugar
1 1/2 cups (375ml) water
1/2 tbsp lemon juice
*substitute with 
Method
To make the raspberry cordial, place the raspberries, sugar, water and lemon juice in a medium saucepan over medium-low heat and simmer, stirring occasionally, for 8–10 minutes. Allow to cool slightly. Using a stick blender, blend until smooth. Strain the mixture into a 1½ cup capacity (375ml) bottle or jug, discarding any solids, and refrigerate until chilled.


Thanks Country Road for this delicious feature.
I love sharing everything that I come across and if you need a dairy free, chocolate and nut treat over Christmas be sure to check out Donna's Hazelnut Icecream, it's delicious. 




Wishing you an amazing time with your family and friends. 
Much love from our family to yours. 
xxDani