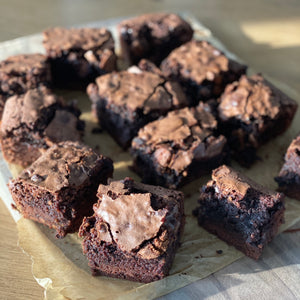 Chocolate Black Bean Brownies
I used to hide so many veggies in our meals, from carrots to zuchinni and now black beans.
This is such a delicious recipe and the kids can never taste the black beans. Winning!
Black beans are a rich source of carbohydrates, fiber and protein. Beans are digested slowly, which helps maintain stable blood sugar levels and gives you steady energy.
Chocolate Brownies with Black Beans

Ingredients: 
1 1/2 cup cooked black beans

2 tablespoons cacao/cocoa powder

1/2 cup rolled oats

1/4 teaspoon sea salt

1/3 cup maple syrup

1/4 cup extra virgin olive oil (I use Cobram light flavour, extra for greasing

2 teaspoons vanilla extract

1/2 teaspoon baking powder

1/2 cup dark chocolate chips

5 Mejdool dates, pitted

Icing sugar for dusting (optional)
Directions:
Preheat oven to 180 degrees Celcius (350 degrees F). Line a 9 inch by 9 inch baking dish with baking paper. Coat the baking paper with a layer of oil.

In a food processor, add the beans, cocoa powder, oats, sea salt, maple syrup, oil, and vanilla extract and process for 6 minutes.  Add dates and process for another two minutes.

Transfer mixture to a bowl, and fold in the baking powder until completely mixed in. Stir in chocolate chips.

Pour batter evenly into pan, and bake for 26 minutes, rotating after 18 minutes, or til slightly firm to the touch.

Cool slightly, and then cut into squares.

Sprinkle over sifted icing sugar. 
* This recipe was adapted from a recipe from the National Gourmet Institute and the lovely Caroline from Preventative Nutrition. We had these delicious sweets the last time we caught up and the kid's loved them!! 
I am so proud of my dear friend Caroline, she just got accepted to do a research degree at Bond University with a full scholarship!!!! WOO HOO!!!! She will be performing a systematic review looking at whether healthy dietary patterns like the Mediterranean, vegetarian, and vegan diets do in fact reduce inflammation in cardiovascular disease patients.

The greatest thing about this is once this paper is published they plan to roll this into the PhD program and trial a culinary intervention with CVD patients teaching them how to cook to improve their health and reduce any future cardiovascular events.
How good is that? You must be so proud Caroline for making a difference in people's lives. BRAVO!!!! 
Wishing you a Happy New Year and let's eat great again! Let me know your resolutions this year and how I can help. I have decided to stop drinking alcohol so if you're keen too, come join us #danisoberteam.
Happy FRIDAY!!!! 
xxDani