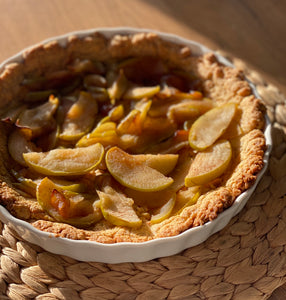 What a beauty! My kids got their cooking skills on and whipped this baby up just in time for Mother's Day.
Served with delicious Cocotribe vanilla icecream, this is what Mothers Day is all about. Love.
Apple Cinnamon Pie
Ingredients

Topping
x6 Granny Smith Apples
1-2Tsp of cinnamon 
Squeeze of half a lemon and zest
Pastry
2 cups of Flour and 1/2 cup of Oats
1 cup Vegan butter (chilled, chopped in cubes)
3 Tbs Coconut Sugar (or any sweetener you prefer)
1tsp Salt
4tbs Cold Water 
Method
This is the fun part, massaging all the pastry ingredients together in this bowl. Alternatively make your life mess and easy free and place all ingredients in a food processor.
Meanwhile place all the apples, cinnamon and lemon into a pot and simmer until it thickens. Allow to cool. 
Once the pastry is finished, line a cake tin, use a fork to allow air to flow during the baking. Bake in 180C degrees oven for 30-40 minutes or when golden brown   
Serve with this delicious pie with Cocotribe vanilla icecream.

Enjoy this lovely crisp, crumbly pastry base with a soft, juicy centre YUM.

Wishing all the Mama's past, present and future a wonderful Mothers Day.  
XxDani