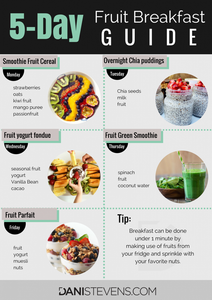 5-Day Fruit Breakfast Guide
This week breakfast is on me, check out these awesome breakfast inspo recipes and please give them a go to kick start your mornings. They will give you all the energy you need to keep your mind and body fuelled for the day ahead.

FOOD FACTS
Fruit smoothies are so practical and take only minutes to prepare. From coconut water to whatever is in your fruit bowl or frozen fruits, add some protein powder, drizzle some honey this will sure add to your daily requirement of vitamins and minerals. It all depends on what and how much you put in your blender. Add an avocado and you have just increased your potassium and magnesium intake.

Chia seeds don't be fooled by their size! These tiny seeds pack a powerful nutritional punch and are loaded with fiber, protein, Omega-3 fatty acids and various micronutrients. Plus they have more antioxidants than blueberries and are so handy in your smoothies, sprinkled on your cereal, cakes or puddings.

Green smoothies you know I don't need to sell you on these. It's my holy grail to youthful looking skin and energy packed vibes that keep me going throughout my day. Green smoothies offer pure nutrition especially when you need to eat your veggies without even realizing it. If the taste of the greens isn't your thing, add some fruit and soon enough you won't even notice the veggies are there. For my FREE creative Green Smoothies recipes download your very own ebook here.

Breakfast Inspo DS
Now you know I love making my life easy with my family of 6 so nothing beats our yogurt and muesli parfaits, super quick, nutritious, you can do it when you have unexpected guest arrive for dessert, it's a fabulous breakfast and healthy snack idea. For my step to step guide on how easy this is check this out!


https://youtu.be/DmeVuHE4TC8?list=PLdpVsYOGuvF9CTRrkwtPQidO8FgsbBc37

Have an amazing Monday and for more action packed things happening in our world, come follow me on Instagram.

XxDani