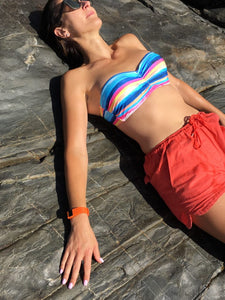 Gotrak keeping me on track
I love testing out anything new, especially when it comes to health and fitness gadgets! Anything to do with fitness and living a healthy lifestyle, I'm in!!! I get even more excited when I get invited to share new start up brands like our 1st Australian owned Fitness Tracker, gotrak. Goran Trakilovic is the Founder and Director of gotrak. We had heaps in common and I told him how much I enjoy test driving new and emerging tech and providing honest feedback. I live and breathe this stuff 365 days of the year, plus I love sharing whatever benefits my family and you too!

Coming from an IT&T background, I have witnessed firsthand how technology has transformed the fitness industry. Working at Telstra for over 15 years allowed me to play with the latest gadgets, so it's great to have this part of my everyday life here on DaniStevens.com.

My dear friend and reporter Libby at The Huffington Post asked me recently my thoughts around wearables and how it fits into my life;

"It's all about collaboration and connecting with like-minded people all over the world. Technology is really helping us set scores and helping us beat our personal best. It's also a great way to encourage one another and motivate those that need that extra push," Stevens said.

For more read How Technology Has Transformed The Fitness Industry.
This is an overview of what I love about gotrak
Price point is affordable at only $129.95AUD delivered to your doorstep, I feel that it's a steal. Compared to some other competitors who charge over $200!
Hubby and I go regularly for our bike ride date nights, so the romance is heating up! And he's full of energy. Win win.
It gently wakes me in the morning with a subtle vibration.
It's linked to my iPhone so I can take selfies on top of Cabarita Headland (now you know I am happy with that option!)
https://www.instagram.com/p/BMjIA1zhmF4/?taken-by=danistevens365
It's like my personal assistant as it notifies me for all my social posts, sms and even caller id.
People stop me on the street or shops to ask me what I think of my wearable.
It beeps to remind me about our abs challenge this month. Have you tried our flutter kicks and V-ups this week?
https://twitter.com/DaniStevens365/status/795874355762774016
Clever anti-lost tracker that vibrates when you are more than 5 meters away from your mobile device.
Heart rate monitor tracks your resting heart beat as well as when you crank up some cardio action, to burn those unwanted calories.
It keeps my relationship with my husband alive. A couple that walks 10,000 steps together, stays together.
Stores all my data into a graph so I can track my progress and all my results.
It motivates me to move more and go for a walk and watch my boys surf (check out this butterfly photobomb!)
Quick charge and longer battery life. I get at least 5-6 days before re-charging.
Love the smart notifications, which you can customize to suit your fitness goals.
The colours! Oh how I love my the bright pop colours! Pick a colour, any color. It comes in black, orange, purple and blue. Colours get me pumped and motivates me to put it on everyday!
It gently vibrates to remind me to go to bed at 10:30pm each night.
I can borrow my husband's gotrak when I accidentally jump into my deep water running class (unfortunately it's not waterproof yet but it is water resistant)
https://www.youtube.com/watch?v=MKdpV4AYXeM
All in all, I am super proud of my friend Goran who has thought of all the missing info that other wearables were lacking in his life. What inspires Goran?
I love the outdoors, I love fitness & staying healthy – it is so important to look after your body and your body will look after you in return. I also think it's great to see tech companies exploding onto the scene in the past few years. Just look at Silicon Valley tech co's out of the USA. However, we don't see many tech start ups here in Australia – I think we've got great potential as a country and ability to produce in this department and I'd love to see more young guys like myself, starting up techs here to propel our economy. I want to show the world what we can do.
BRAVO Goran, keep up the fab work! You can stay connected with gotrak on their Instagram and Facebook pages for more.
Here's an awesome infographic from my friends over at www.appcessories.co.uk sharing all the fitness trackers that are out there today! Would you believe there are over 100 of them? So who's wearing them? Where are they located? What are people really using them for? Big thanks to Max Wegner and his team for putting this together, it's brilliant.