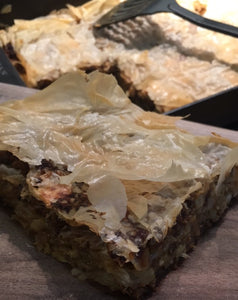 Vegan Burek AKA Serbian Croatian Meat and Egg Free Pita Gibanica
I did it! Perfected it! Nailed it! This is a Serbian Croatian dish I have grown up on and never thought I could make it without meat and egg. Boy! Was I wrong. My brother is going to love me for this one!
Vegan Meat And Egg Free Burek
Ingredients
1 cabbage finely sliced
1 onion finely diced
1 packed Veggie Delight mince
2 crushed garlic
1 tsp smoked paprika
Drizzle of olive oil
1 tsp all spice
Salt and pepper to taste
1 packet of Filo pastry thawed
Method
Gently fry onion and garlic and add cabbage (you can also add celery, carrots etc...) fry until soft.
In a oven tray drizzle olive oil and layer 2 filo pastry sheets and 2-3 tbs of mixture.
Repeat this process and place in preheated 200C degree oven and cook until golden brown.
Better still, come check it out in action here;
Happy Thursday and World Forgiveness Day! Come on over to my Instagram to watch more of our stories.
Otherwise you can watch the replays of our 365 days on our YouTube channel.
XxDani
365 Lifestyle Motivator